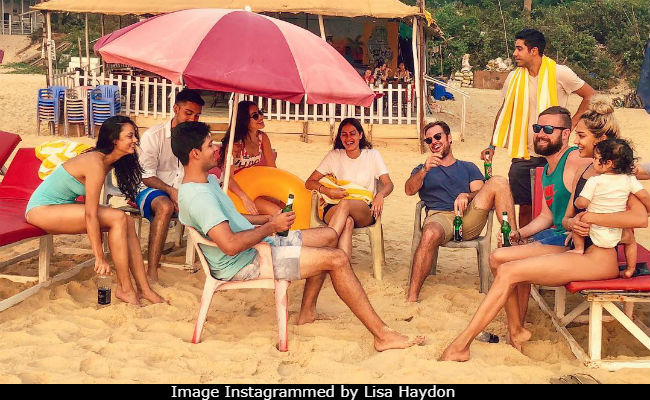 Highlights
Lisa Haydon is holidaying in Goa
She's in Goa with her family and son Zack
"Fam Jam 2018," she captioned her album
New Delhi:
Actress Lisa Haydon is having the time of her life in Goa. She's enjoying the sand, the sea and the sun in the beach destination with her family and has been updating us on Instagram with envy-inducing vacation posts on Instagram. "Fam Jam 2018," she captioned her album. In one particular Instagram memory, she hinted that she wants to expand her family in the future. Lisa,
who is on a family vacation
with her siblings and cousins, set major family goals with this adorable caption: "Will probably never get around to having as many kids as our parents gave us siblings- Or my aunt gave us cousins. But I'll try my best to put my drop in the ocean ... because for me THIS IS LIFE (sic)." Lisa Haydon is married to Dino Lalvani and the duo are
parents to a son they have named Zack
, who turns one in May.
Lisa Haydon's sisters Julia and Malika also feature in her Goa photos and here they are:
A part-time actress and model and full time mother, Lisa Haydon, in an interview with IANS, said she believes in giving her 100 percent irrespective of whichever duty she is on: "It is pretty straightforward. It comes down to really good health. When I am at work, I am at work and I rationalise that in my own head because I love my job and I am a working mom. And when I go home, I try to be the best mom I could possibly be and give them all my attention and time and focus. That's the only way I can balance it - give 100 per cent where you are at that moment," IANS quoted her as saying.
Lisa Haydon and Dino Lalvani
had a destination wedding in Phuket in 2016
- Zack was born in May the following year. Lisa Haydon was last seen in a supporting role in
Ae Dil Hai Mushkil
. She's one of the co-judges on the current season of
India's Next Top Model
.