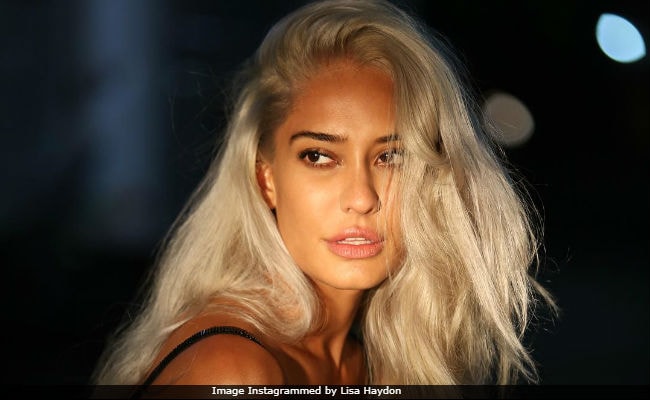 Highlights
Lisa Haydon is one of the judges on TV show, Top Model India
"I try to be the best mom I could possibly be," said Liza
Her last film was 2016's Ae Dil Hai Mushkil
New Delhi:
Actress Lisa Haydon
, who is one of the judges on the TV show
Top Model India
, is 'happy to be able to balance motherhood and work.' The actress, who gave birth to
son Zack Lalvani
in May 2017, told news agency IANS that she believes in giving "100 per cent at that moment." "It is pretty straightforward. It comes down to really good health. When I am at work, I am at work and I rationalise that in my own head because I love my job and I am a working mom. And when I go home, I try to be the best mom I could possibly be and give them all my attention and time and focus. That's the only way I can balance it - give 100 per cent where you are at that moment," she told IANS.
The
Queen
actress has time and again, defied boundaries by doing things, which most Indian actress cannot even imagine to do; from announcing her pregnancy in a bikini, posting her breastfeeding picture to going platinum blonde, she's done it all.
Liza keeps posting cute pictures of her son Zack and we just can't thank her enough. This was when she announced the 'humble beginnings':
The actress literally broke the Internet by posting this
image of her breastfeeding son Zack
. She posted: "I've gotten loads of posts asking about life after having my son... especially to do with weight and fitness. Seeing as its World Breastfeeding Week- time to give some credit where credit is due. Breastfeeding has played such a big part in getting back into shape after giving birth to my baby. Breastfeeding has been challenging + time consuming (literally hours spent every day trying to stimulate milk supply) but it's such a beautiful way to bond and connects with your child plus all the nutritional benefits that your child gets from your milk. Look out for my blog post on mycityforkids.com on breastfeeding. Happy #worldbreastfeedingweek."
Here's what Lisa posted:
The actress' look - her platinum blond hair - was done by celebrity make-up artist and hairstylist Florian Hurel, for her new TV
Top Model India
.
Lisa, who was last seen in 2016 film
Ae Dil Hai Mushkil
, got married to her then-boyfriend Dino Lalvani, on October 29, 2016, at the Amanpuri Beach Resort in Phuket, Thailand. Her husband Dino is the son of Pakistan-born British entrepreneur Gullu Lalvani.