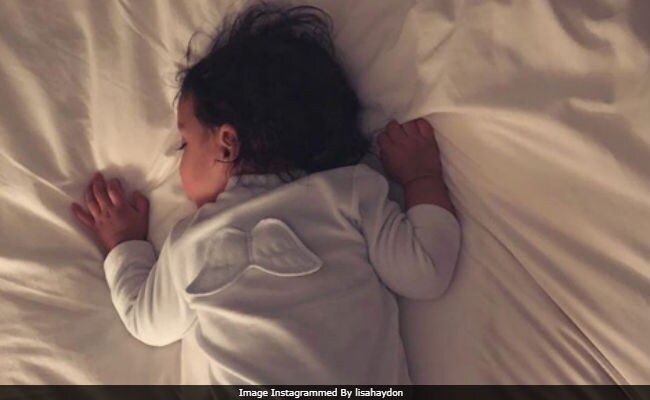 Highlights
"Oh there, you baby angel," read a comment
Zack will turn 1 this May
He is Lisa and Dino's first child
New Delhi:
Actress
Lisa Haydon shared a picture
of her baby boy Zack Lalvani sleeping and captioned it as, "Particularly angelic while sleeping." The Internet just loved Zack's sleeping picture and comments such as, "Aww, this is so cute," "Oh there, you baby angel," and "Super cute," were posted. Baby Zack, wearing a white night dress, sleeps on his tummy. (oh-so-cute). A section of people also advised Lisa to not let him sleep in that position. "Such a cutie. I would really request you not to put the baby sleep on the back that is really dangerous. You can Google and find out the risks," a comment read.
Here's Zack, looking absolutely adorable.
Lisa, 31, married businessman Dino Lalvani, 44, in a beautiful beach wedding in November 2016. The ceremony was attended by close relatives and friends. They welcomed their first child, a baby boy Zack, last year in May.
Baby Zack often features on Lisa Haydon's Instagram posts. (We have collated his super cute pictures just for you. You can thank us later).
This one's from his first Christmas.
And, his first photoshoot with mom Lisa.
The family vacation picture is so beautiful.
Baby Zack and Lisa's swimming class
.
On World Breastfeeding Day, Lisa shared a picture of herself feeding Zack and highlighted the benefits of breastfeeding a child. "Breastfeeding has been challenging time consuming (literally hours spent every day trying to stimulate milk supply) but it's such a beautiful way to bond and connect with your child plus all the nutritional benefits that your child gets from your milk," she wrote.
Lisa Haydon, a former model, debuted in 2010 with
Aisha
. She followed it up with films like
Rascals, Queen, The Shaukeens, Santa Banta Pvt Ltd
and
Housefull 3
. She was last seen in the
Ae Dil Hai Mushkil
.