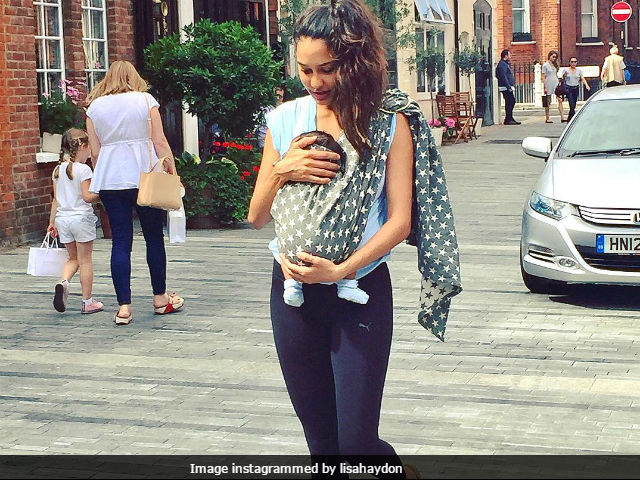 Highlights
Lisa says she's been flooded with queries about post-pregnancy fitness
Lisa says breastfeeding contributed tremendously to her getting in shape
Lisa: It's such a beautiful way to bond and connect with your child
New Delhi:
Actress and new mother Lisa Haydon
is being applauded online for a post on the importance of breastfeeding with a picture of herself feeding two-month-old son Zack. Lisa, 31, writes that she's been flooded with queries about post-pregnancy fitness and explains that breastfeeding, though "challenging and time consuming," contributed tremendously to her getting in shape after the birth of the baby. She also writes, "It's such a beautiful way to bond and connect with your child plus all the nutritional benefits that your child gets from your milk." The post coincides with World Breastfeeding Week.
Lisa Haydon's post is crowded with comments, mostly praising her for highlighting the importance of breastfeeding. There are, of course, the inevitable trolls posting salacious comments about the picture but these are drowned by the deluge of positive feedback. "Kudos to you for putting this up," reads one response. A mom who relates wrote: "Nice to see there are others who admit that it's very time consuming but that nothing beats the benefits of breastfeeding."
Zack was born in May to Lisa Haydon and her husband Dino Lalvani
. The couple married last November. Lisa has been posting pictures of her son fairly regularly but in each of them, as in this latest one, she is careful not to show his face.
How adorable are Zack and his mommy?
Lisa Haydon, a very successful model, has a string of film appearances to her credit, the best-known of which is Kangana Ranaut's
Queen
. She was also in Sonam Kapoor's
Aisha
and had starring roles in
The Shaukeens
and
Housefull 3
. Lisa's last big screen outing was as small role in Karan Johar's 2016 film
Ae Dil Hai Mushkil
. She currently stars in web series
The Trip
.