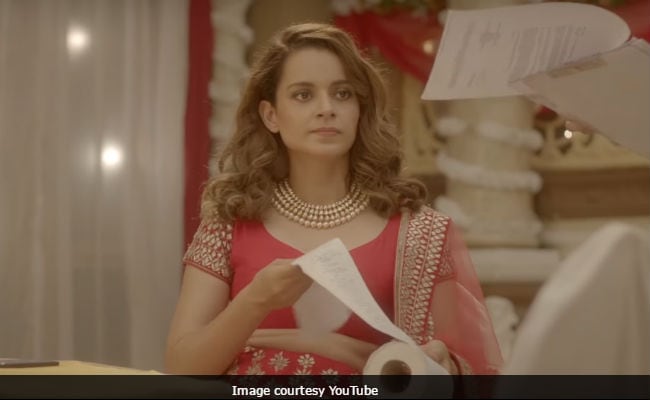 Highlights
Kangana delivers a hilariously customised rendition of Chittiyan Kalaiyan
Kangana takes an unsubtle jibe at Hrithik and Karan Johar in the video
Kangana skewers the film industry's insidious patriarchy at many levels
New Delhi:
Actress Kangana Ranaut satirizes Bollywood and its treatment of female stars in a new collaboration with comedy collective All India Bakchod or AIB, the latest in her series of promotions for new film
Simran
. Titled
The Bollywood Diva
Song, the video stars Kangana as an everywoman actress named Priya who is readying for a shot but is rudely dismissed by the director. He can't even recall who she is and the words 'female lead' don't ring a bell - what does is when Kangana refers to herself as the hero's love interest. He also refuses to listen to Kangana's complaint about her dialogue - her character is a quantum physicist and won't say these lines, she points out not unreasonably. "
Arre baby, yeh dance number hai! Audience ko titillate karogi tabhi toh hit hoga na
," is the director's response.
Enter the hero, played by comedian Varun Thakur. He arrives and receives the welcome Shah Rukh Khan did in
Kabhi Khushi Kabhie Gham
. He also flags the same 'quantum physicist won't say this' problem with the script and his suggestion is instantly and warmly received. Clearly, the hero is treated like SRK... sorry... God in Bollywood.
Too bad, Priya. But then, it's actually
Kangana Ranaut
waiting to film the dance scene and nobody puts the poster girl of plain-speak in the corner. She delivers a hilariously customised rendition of
Chittiyan Kalaiyan
, the refrain to which goes "
Coz I have a vagina rey
."
The song is basically a series of one-liners stitched together, notable among which is the line "
Papa ne tujhko launch kiya ve, Main boli toh tune taunt kiya ve, tu karti victim play
." It's not hard to connect the dots: it's an unsubtle jibe at the two men Kangana has most recently tangled with - Hrithik Roshan, whose father launched him in
Kaho Naa... Pyar Hai
and directed him in several subsequent movies; and Karan Johar who responded to Kangana's now infamous 'flagbearer of nepotism' comment by accusing her of playing the 'woman and victim card.'
The Bollywood Diva
Song skewers the film industry's insidious patriarchy at many levels, from the higher salaries commanded by male stars to the age gap between them and their female co-stars. It saves the most telling punch for the end - that for the film fraternity, one actress is indistinguishable from the other, easily replaced and interchanged.
Watch the full video posted by AIB here:
Kangana Ranaut's
Simran
duties have led several explosive headlines in the recent past - in a series of TV interviews last week,
Kangana
described Hrithik, whom she claims as an ex-boyfriend, and his father Rakesh Roshan as "having made fools of themselves." She also alleged that her four-year romance with married actor Aditya Pancholi took place when she was a minor and that she asked his wife
Zarina Wahab
to 'save' her. Ms Wahab has disputed this.
Simran
releases this Friday after which Kangana Ranaut is expected to resume shooting for
Manikarnika: The Queen of Jhansi
.