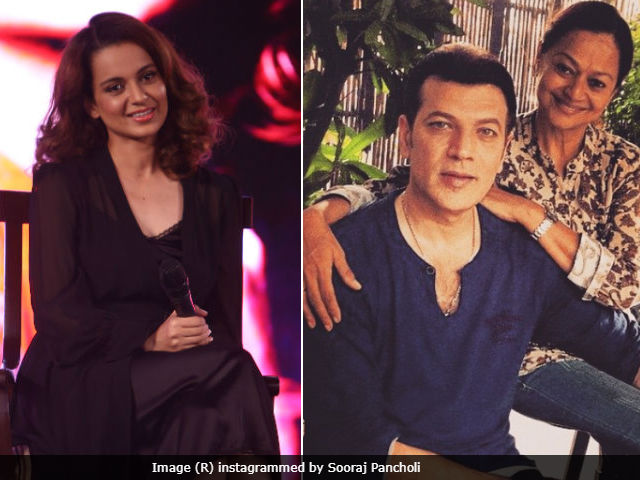 Highlights
"Knew she was dating my husband how can I say she's like my daughter?"
Zarina Wahab also denied outright that Kangana asked her for help
Kangana's sister Rangoli launched an attack on Zarina Wahab on Twitter
New Delhi:
A new front has opened up in Kangana Ranaut vs the world - Zarina Wahab has responded to
Kangana's claim that her romance with Ms Wahab's husband Aditya Pancholi
was in fact abuse and that she had asked the older actress for help. Kangana's many explosive comments made to separate television channels in New Delhi some weeks ago set off a chain reaction of minor shockwaves in the film fraternity. Apart from
demanding an apology from actor (and purported former paramour) Hrithik Roshan
and his father Rakesh Roshan, Kangana also said that she had been a minor during her alleged four-year relationship with Aditya Pancholi several years ago, that she had been a year younger than his daughter Sana and that she had approached Zarina Wahab asking for help because she couldn't tell her parents.
Speaking to
Pinkvilla
, Zarina Wahab expressed incredulity, especially about claims that she had treated Kangana as her daughter. "This is completely untrue! When I knew she was dating my husband how can I say she's like my daughter? That is ridiculous. She was dating my husband (Aditya) for four-and-a-half-years so how can I say that she's like my daughter?" Ms Wahab told
Pinkvilla
.
Ms Wahab also denied outright that Kangana asked her for help. "I met Kangana a few times because my husband wanted me to take her to meet Sanjay Leela Bhansali so I took her there," Zarina Wahab told
Pinkvilla
adding that "there was no question" of Kangana appealing to her. Ms Wahab also said asked why Kangana dated Aditya Pancholi for over four years if she thought of him as a 'bad person' and dismissed the allegations as Kangana raking up '14-15-year-old stuff' in order to promote her new film
Simran
.
It's not the first time Kangana has been accused of using her romantic history to generate publicity for
Simran
- singer
Sona Mohapatra wrote her an open letter calling her various headline-making remarks 'PR in bad taste
.'
Kangana Ranaut's sister Rangoli Chandel launched an attack on Zarina Wahab after the interview was carried on
Pinkvilla
. Her tweets:
Sana Pancholi is born in 1985 Kangana Ranaut is brn in 1987 do u hv shame u r a prt of dis exploitation of a grl youngr dan ur own daughter?

— Rangoli Chandel (@Rangoli_A) September 10, 2017
she has pleaded you many times to help bt instead u gave her diamonds and got her dresses frm Bangkok took her to meet Sanjay Leela Bhansali

— Rangoli Chandel (@Rangoli_A) September 10, 2017
U bth sud b behnd d bars, I wan 2 knw if U knw ur husbnd s exploitin dis minr, y wl u giv hr gifts n lure hr by takin hr 2 bg directrs home?

— Rangoli Chandel (@Rangoli_A) September 10, 2017
Y wud u gift Kangana diamonds and clothes frm Bangkok n request her nt to go to cops if you knew ur husband is dating her as claimed by you?

— Rangoli Chandel (@Rangoli_A) September 10, 2017
You didn't only take her to Sanjay Leela Bhansali's house but you also took her to meet your sisters in Bandra....

— Rangoli Chandel (@Rangoli_A) September 10, 2017
.....and you sent regular fish biryani to her house and pleaded her not to go to cops.
Why Zarina ji pls answer ???

— Rangoli Chandel (@Rangoli_A) September 10, 2017
Kangana Ranaut dated Aditya Pancholi during her earliest years in Bollywood - she debuted in 2006 film
Gangster
and, in her decade on screen, won three National Awards for
Fashion, Queen
and
Tanu Weds Manu Returns
.
Simran
, directed by Hansal Mehta, has been mired in controversy for a while now with writer Apurva Asrani alleging that Kangana Ranaut had been given writing credits over him unfairly.
Simran
comes up this Friday.