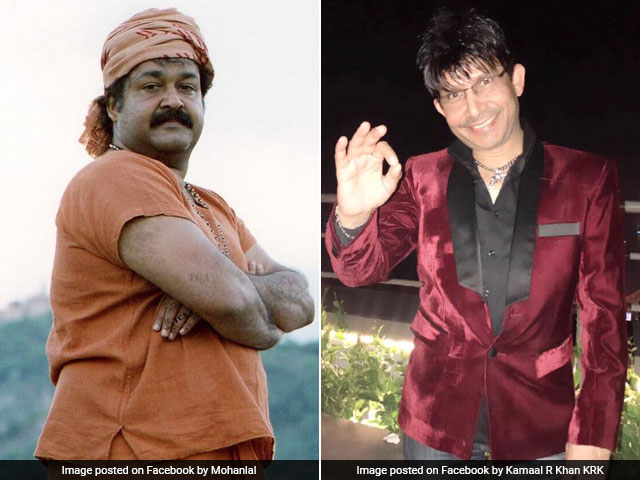 Highlights
"It will be a biggest insult of Bheem," KRK tweeted
He also referred to himself as the "bigger star"
KRK also tweeted to say that he wants to play Lord Krishna in the film
New Delhi:
Kamaal R Khan really loves Twitter but the feeling is not mutual. Self-proclaimed actor, producer and movie critic KRK has been massively slammed on Twitter for posting offensive tweets about
Malayalam actor Mohanlal
, in which he referred to the 56-year-old actor as "
chhota
Bheem" and "joker." "People please see this
chhota
Bheem. It will be a biggest insult of Bheem if this joker plays role of greatest Bheem," KRK tweeted on Tuesday along with a picture of Mohanlal, who has been cast in the central role in a
1,000 crore film
adaptation of
The Mahabharata
to be told through the viewpoint of Bheem. KRK, being KRK, was unmoved by the tremendous outpouring of fury his tweets provoked, and continued to post defences of himself, even calling himself a "bigger star."
Sir @Mohanlal you look like Chota Bheem so then how will u play role of Bheem in Mahabharata? Why do you want to waste money of B R shetty?

— KRK (@kamaalrkhan) April 18, 2017
Can't understand why Malayali ppl r abusing me since morning? M I wrong abut Mohanlal who is not equal 2Hathiyar of Bheem n wants 2play him?

— KRK (@kamaalrkhan) April 19, 2017
So if I called you Chota Bheem what you are really, then why are ur fans abusing me since morning? It's not fair sir https://t.co/Q4OEFo2mqI

— KRK (@kamaalrkhan) April 19, 2017
U idiot fans of @Mohanlal Aka Laalten Aka Chota Bheem, he has 1.7million follower n I have 3.7million. Calculate to know who is bigger star.

— KRK (@kamaalrkhan) April 19, 2017
KRK's pick to play Bheem in the mega-buck film -
Baahubali
actor Prabhas, who he named along with a hypothetical dream cast including himself as Lord Krishna. Prabhas'
Baahubali
co-star gets to be Duryodhan in KRK'S imaginary version of the ambitious film while Aamir Khan and Shah Rukh Khan, no less, are his choices for Arjun and Karan.
Starcast of #Mahabharatha- Prabhas- Bheem, Rana- Duryodhan, Aamir- Arjun, SRK-Karan, Ranbir-Abhimanyu, Salman-Eklavya, Deepika-Dropadi!

— KRK (@kamaalrkhan) April 19, 2017
Meanwhile, fans of Mohanlal said that they were unaware of KRK's existence till his tweets about the actor brought him to public attention.
@kamaalrkhan Before Your Comment about Mohan Lal, We Malayalees didnt even Know Your Name. You should thank Mohanlal for making you famous in South India

— Sarath kumar (@Sarathk16891368) April 19, 2017
Who is this person called KRK ? Where was he before? Never heard of him before. Was he watching Chotta Bheem & eating lollipops at his home?

— anand neelakantan (@itsanandneel) April 19, 2017
There has been no response from Mohanlal to the tweets but KRK urged the actor to keep his fans in check for trolling him. "So, if I called you chhota Bheem, what you are really, then why are your fans abusing me since morning? It's not fair, sir," read of KRK's tweets.
Mohanlal's fans might not know who Kamaal R Khan is but actors like Sonakshi Sinha, Parineeti Chopra and
Lisa Haydon
, who have been the subjects of unsolicited and offensive tweets posted by him, certainly do. Last year, he was the fulcrum of a "Bollywood-style" war after claiming in a recorded conversation that Karan Johar paid him paid him Rs 25 lakhs to tweet in favour of his film
Ae Dil Hai Mushkil instead of Ajay Devgn's Shivaay
. Both films released on Diwali last year. KRK later retracted.
The grand
Mahabharata
project will be financed by UAE-based businessman B R Shetty and will release in six languages and be dubbed in more. Like
Baahubali
, two parts have been planned and the first will go on floors in 2018. It is expected to hit screens in 2020.