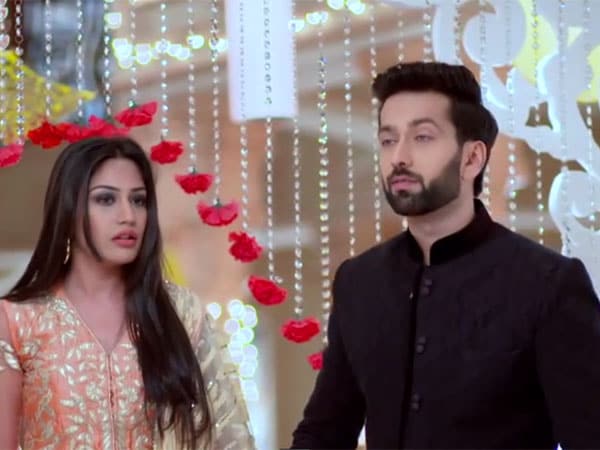 Highlights
Anika continues to trouble Shivaay in her own adorable ways
Anika was spotted sleepwalking in the house
She walked into a conversation between Svetlana and Tia
New Delhi:
Anika continues to trouble Shivaay in her own adorable ways in the
Ishqbaaz
episode which aired on February 15.
Anika constantly blamed herself
when she learnt that Tia is pregnant with Shivaay's baby. Shivaay's mother insulted Anika saying that her marriage to Shivaay is actually a sham, and the Oberoi's do not take it seriously. Meanwhile, Anika, who has lost her memory, misunderstood the entire situation and was upset thinking she is unable to have a child. Anika resorted to her room and continued to lament her situation when
Shivaay appeared troubled
and tried to pacify Anika, who simply could not stop sobbing.
In his attempt to calm her down, Shivaay told her that he loves her the way she is and tried to refresh her memory making a promise in their signature style. Anika was only left bewildered and asked Shivaay to remind him of the significance of a 'pinky promise.' Soon, Shivaay put Anika to sleep, but the episode took an interesting turn.
Anika was spotted sleepwalking in the house and she walked into a conversation between Svetlana and Tia. Svetlana and Tina misguided Anika towards an unguarded space in the corridor. As Anika was about to fall off the corridor, Shivaay arrived just in time and saved her from falling. Meanwhile, Dadi witnessed the situation and reminded Shivaay to take better care of Anika.
The scene shifts to Omkara, who had a chance encounter with Gauri. Tortured and haunted by her ruthless relatives, Gauri attempted to flee the house with her mother but local don Kaali arrived at her doorstep and manhandled her. Kaali kidnapped Gauri and locked him in his house, when his wife attempted to end her life. She was saved by Omkara, who got her admitted to the hospital.