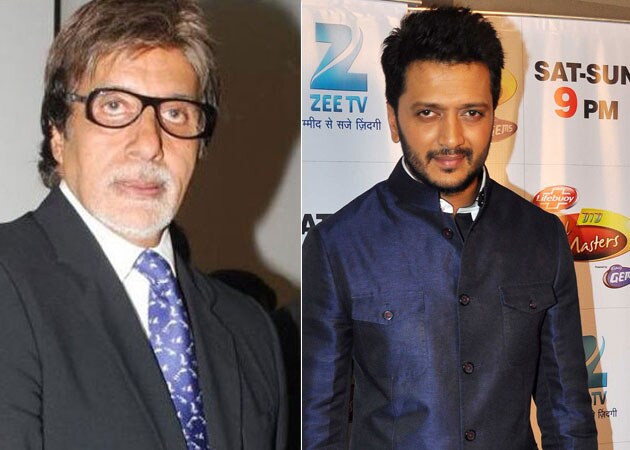 Highlights
Bollywood celebrities greeted fans on the occasion of the holy month of Ramadan, describing it as the time to forgive others.
Megastar Amitabh Bachchan, Ek Villain star Riteish Deshmukh among others took to Twitter to wish their followers.
Amitabh Bachchan tweeted
T 1530 - Ramadan Mubarak ... !!! Forgiveness sought from all those that I may have wronged or been wrong to .. http://t.co/N4xHUoYktG
— Amitabh Bachchan (@SrBachchan) June 29, 2014
Oscar-winning sound designer Resul Pookutty posted
As we enter the holy month of Ramadan,wish U and your loved ones a month filled with blessings,forgiveness and joy.May prayers be answered.
— resul pookutty (@resulp) June 30, 2014
Riteish posted,
Ramadan Mubarrak my friends - stay blessed.
— RD:Lai Bhaari 11july (@Riteishd) June 30, 2014
Actor Shreyas Talpade, who is all geared up for his Marathi production venture Poshter Boyz, said he is going to fast for two days.
Ramadan Mubarak yaaron...last year I fasted for 1 day...this year...2....Allah Maalik.
— shreyas talpade (@shreyastalpade1) June 30, 2014
Actress-producer Dia Mirza tweeted,
Ramzaan Kareem:)
— Dia Mirza (@deespeak) June 29, 2014
Newly married actor Aftab Shivdasani said
Here's wishing everyone a peaceful and blissful Ramadan. May the almighty shower all with love, peace and happiness.
— Aftab Shivdasani (@AftabShivdasani) June 30, 2014
Mumbai:
Bollywood celebrities greeted fans on the occasion of the holy month of Ramadan, describing it asthe time to forgive others.
Megastar Amitabh Bachchan,
Ek Villain
star Riteish Deshmukh among others took to Twitter to wish their followers.
Amitabh Bachchan tweeted
T 1530 - Ramadan Mubarak ... !!! Forgiveness sought from all those that I may have wronged or been wrong to .. http://t.co/N4xHUoYktG

-- Amitabh Bachchan (@SrBachchan) June 29, 2014
Oscar-winning sound designer Resul Pookutty posted
As we enter the holy month of Ramadan,wish U and your loved ones a month filled with blessings,forgiveness and joy.May prayers be answered.

-- resul pookutty (@resulp) June 30, 2014
Riteish posted,
Ramadan Mubarrak my friends - stay blessed.

-- RD:Lai Bhaari 11july (@Riteishd) June 30, 2014
Actor Shreyas Talpade, who is all geared up for his Marathi production venture
Poshter Boyz
, said he is going tofast for two days.
Ramadan Mubarak yaaron...last year I fasted for 1 day...this year...2....Allah Maalik.

-- shreyas talpade (@shreyastalpade1) June 30, 2014
Actress-producer Dia Mirza tweeted,
Ramzaan Kareem:)

-- Dia Mirza (@deespeak) June 29, 2014
Newly married actor Aftab Shivdasani said
Here's wishing everyone a peaceful and blissful Ramadan. May the almighty shower all with love, peace and happiness.

-- Aftab Shivdasani (@AftabShivdasani) June 30, 2014