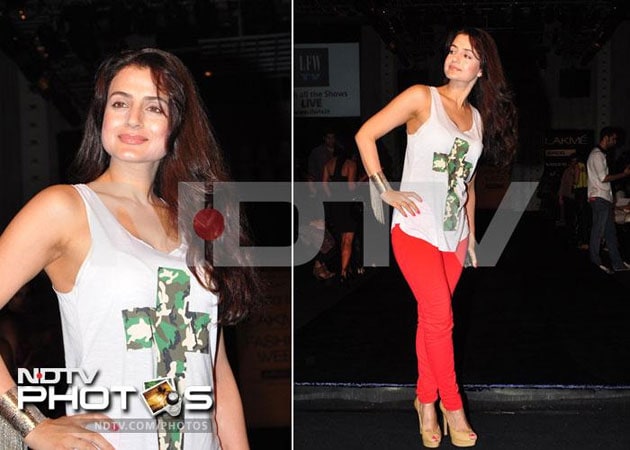 Highlights
Date issues and ever-changing shoot schedules make the actress opt out of the Sunny Deol starrer.
Ameesha Patel who has always been very fond of her Gadar director Anil Sharma has walked out of the film. According to sources, "Ameesha's busy schedule for her other commitments wasn't something that the director was too happy about.
Those close to him say that Anil Sharma is a self-minded person and feels that if he has signed her for the film she should be available for him whenever he needs her. He is of the view that she shouldn't do any other work till his film doesn't release which hasn't gone down well with the actor."
Ameesha is known to be professional and always on time on the sets. She always adjusts dates for her producers be it for the producer of Race 2 or any other film. The actress is apparently upset with the several date changes that have been made.
The source adds, "The director has taken her so much for granted that it's over three months and the director has not even given the actor a signing amount. She has not even made a contract with the actor and in spite of that Ameesha went ahead with her commitment."
The sources further adds, "Ameesha not only had meetings with her costume designer Neeta Lulla who also had started working on costumes without being paid for but also sat for several story narrations." Ameesha who is always known to believe in maintaining relationships did not let all this come in the way of the film. But when dates kept changing month after months, it affected the schedules of her four other films.
She was supposed to be shooting in November then got pushed to December. The source continues, "Her December dates were further changed to January and now when she asked for certain dates so she could commit to her other films and endorsements shoots the director went ahead and said that he's still unsure and many changes could be further made. All this made Ameesha take her decision."
Further, the delay was getting endless and when Ameesha asked the director for 2013 dates, his answer was anytime between February and April and she must keep 60 days for the film. Ameesha who's a very professional person found this very unprofessional and felt it's better she backed out of the film.
Confirming the development Ameesha says, "Yes, I am backing out of the film due to several complications of dates and delays in the project. If I continue to be in the film it will affect the dates and planning of my other projects. I have utmost respect for Anil Sharma and I am hopeful that we will work together again sometime in future."
Mumbai:
Date issues and ever-changing shoot schedules make the actress opt out of the Sunny Deol starrer.
Ameesha Patel who has always been very fond of her
Gadar
director Anil Sharma has walked out of the film. According to sources, "Ameesha's busy schedule for her other commitments wasn't something that the director was too happy about.
Those close to him say that Anil Sharma is a self-minded person and feels that if he has signed her for the film she should be available for him whenever he needs her. He is of the view that she shouldn't do any other work till his film doesn't release which hasn't gone down well with the actor."
Ameesha is known to be professional and always on time on the sets. She always adjusts dates for her producers be it for the producer of
Race 2
or any other film. The actress is apparently upset with the several date changes that have been made.
The source adds, "The director has taken her so much for granted that it's over three months and the director has not even given the actor a signing amount. She has not even made a contract with the actor and in spite of that Ameesha went ahead with her commitment."
The sources further adds, "Ameesha not only had meetings with her costume designer Neeta Lulla who also had started working on costumes without being paid for but also sat for several story narrations." Ameesha who is always known to believe in maintaining relationships did not let all this come in the way of the film. But when dates kept changing month after months, it affected the schedules of her four other films.
She was supposed to be shooting in November then got pushed to December. The source continues, "Her December dates were further changed to January and now when she asked for certain dates so she could commit to her other films and endorsements shoots the director went ahead and said that he's still unsure and many changes could be further made. All this made Ameesha take her decision."
Further, the delay was getting endless and when Ameesha asked the director for 2013 dates, his answer was anytime between February and April and she must keep 60 days for the film. Ameesha who's a very professional person found this very unprofessional and felt it's better she backed out of the film.
Confirming the development Ameesha says, "Yes, I am backing out of the film due to several complications of dates and delays in the project. If I continue to be in the film it will affect the dates and planning of my other projects. I have utmost respect for Anil Sharma and I am hopeful that we will work together again sometime in future."