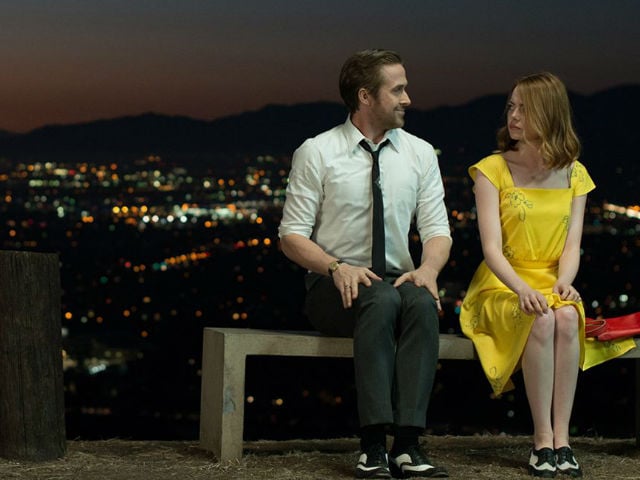 Highlights
Analysts believe La La Land is a clear favorite in 10 categories
Emma Stone may win Best Actress for the film
La La Land won record seven Golden Globes in January
Los Angeles:
The Hollywood awards season reaches its glittering climax at the Oscars on Sunday with
La La Land
, a starry-eyed love letter to the glamour of Old Hollywood, tipped for glory. Millions of viewers around the world will tune in for Tinseltown's biggest night, with Damien Chazelle's romantic musical
pinning its hopes on 14 nominations
, tied with
Titanic
(1997) and
All About Eve
(1950) for the most ever. "When you mention those movies, it makes my head spin even more than it's spinning. I'm a little speechless," Chazelle, 32, told trade magazine Variety when the nominations were announced in January.
With voting among the Academy's 6,000-plus members closed since Tuesday, the frenzied and at times schmaltzy campaigning that perennially marks the awards merry-go-round can no longer impact the results.
Analysts are backing
La La Land
, which stars Emma Stone and Ryan Gosling as an
aspiring actress and a struggling jazz musician who fall in love
in Los Angeles, to win most of the awards for which it is nominated.
However, it is expected to fall short of the record 11 statuettes achieved by
Ben-Hur
(1959),
Titanic
and
The Lord of the Rings: Return of the King
(2003).
Gold Derby, a site that collates the awards predictions of experts and members of the public, has
La La Land as a clear favorite in 10 categories
, including Best Film, Director, Actress, Score and Song.
Storm Expected
Stone, who has dominated the awards season, is expected to bag her first statuette despite late momentum for France's Golden Globe winner Isabelle Huppert, nominated for rape-revenge thriller
Elle
.
"I think (Stone) will win but if she doesn't, it's because she makes it look so easy and because you don't see her putting on an accent, putting on a fake nose, all those things," Stephen Galloway, editor-in-chief of weekly trade paper The Hollywood Reporter, told AFP.
"People like to see the acting. You don't with her. That is actually why she is so great."
Stone also faces competition from Natalie Portman (
Jackie
), Ruth Negga (
Loving
) and Meryl Streep, 67, who earned her record-breaking 20th nomination for
Florence Foster Jenkins
.
Gosling is expected to lose out in the best actor category, however, to Casey Affleck (
Manchester by the Sea
) or Denzel Washington (
Fences
), who are seen as neck-and-neck in the show's closest race. "I really don't know which way best actor will go," veteran film critic Anne Thompson, awards editor for movie blog IndieWire, told AFP.
"I keep changing my mind. And production design and costumes are also hard to call. If
La La Land
wins both, it gets 10. If it wins one, it gets nine."
Crews rolled out plastic sheeting on Wednesday to protect the red carpet and fan bleachers, with intermittent rain showers expected to hit Los Angeles on Sunday.
La La Land
- buoyed by a record seven Golden Globes in January - will vie for Best Picture with eight films including
Arrival
, family drama
Manchester by the Sea
and
Moonlight
, the coming-of-age tale of an African-American in Miami.
Youngest Ever
This year's nominees reflected a push by the Academy to reward diversity after the #OscarsSoWhite controversy of the past two years that prompted calls for a boycott of the annual bash.
Black actors Mahershala Ali and Naomie Harris are first-time nominees for
Moonlight
, while
Fences
hopefuls Washington and his co-star Viola Davis are both old hands, with 11 nominations between them and two wins for Washington.
Also nominated is past winner Octavia Spencer, a best supporting actress candidate for
Hidden Figures
.
She, Davis and Harris compete against past Oscar winner Nicole Kidman (
Lion
) and Michelle Williams (
Manchester by the Sea
), who has been nominated three other times before this year.
For Best Supporting Actor, Ali is leading the betting ahead of Dev Patel (
Lion
), Jeff Bridges (
Hell or High Water
), Michael Shannon (
Nocturnal Animals
) and Lucas Hedges (
Manchester by the Sea
).
In the directing category, Mel Gibson's surprise nomination for the critically acclaimed WWII biopic
Hacksaw Ridge
marks his comeback a decade after being ostracized by Hollywood for an anti-Semitic tirade.
Barry Jenkins (
Moonlight
) and Kenneth Lonergan (
Manchester
) are also in the running, but Chazelle is expected to go one better than his losing nomination in 2015 for writing
Whiplash
, to become the youngest best director winner ever.
Televised live by ABC and shown around the world, the 89th Academy Awards will be held at Hollywood's Dolby Theatre, and hosted by late night talk show host Jimmy Kimmel.
(Except for the headline, this story has not been edited by NDTV staff and is published from a syndicated feed.)