New Delhi:
Highlights
Aamir Khan has over 6 lakh followers
Aamir's recent post features him with a group of school students
According to his team, 'Aamir is changing the face of Instagram'
Aamir Khan is late to the social media party
and seems to be in need of some help. Although he doesn't think so - 'marketing genius Aamir is changing the face of Instagram,' according to his team. The 53-year-old actor is a man of few tweets, posting only rarely and never without a reason or occasion. In comparison, when you consider that he's been on Twitter since 2009, he's far more voluble on Instagram - three posts in 15 days, ever since he joined the photo-sharing platform on the eve of his birthday this month. Three posts, all of them collages, - but if you look at Aamir's Instagram account, there's just one. Before you think he hasn't figured out how to upload a fresh collage without replacing the last one, let's be clear that this is intentional. Per his team, Aamir has done away with the archiving feature and this, apparently, is a masterstroke. But it makes Aamir Khan's newly minted Instagram disappointingly sparse - disappointing, at least, to the six lakh who follow him.
Aamir's new Instagram collage is from Zakhangaon village, one of his stops while touring drought-affected parts of Maharashtra with his Paani Foundation team. The picture shows the actor surrounded by smiling local children: "The kids of Zakhangaon village can bring a smile to anyone's face," Aamir captioned his post.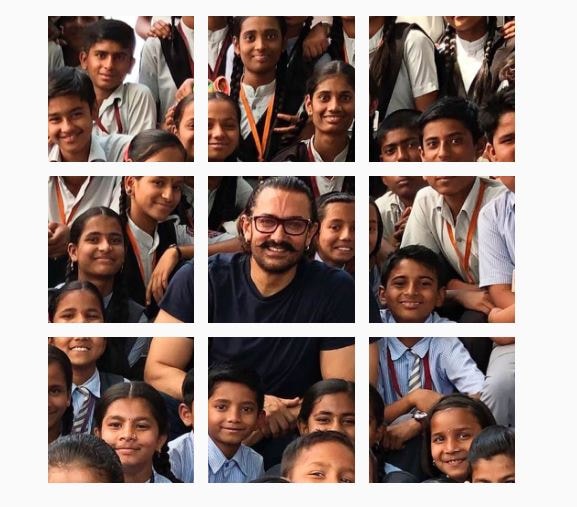 "Can somebody teach Aamir Khan to post pictures and use Instagram," reads one comment on Aamir's post. That's great suggestion so we've made a list of five celebrities killing it on Instagram for Aamir to take lessons from. And it's list fairly close to home - all five are or have been his co-stars.
Katrina Kaif
First up is Katrina Kaif, Aamir Khan's
Thugs Of Hindostan
and
Dhoom 3
co-star. Katrina is also relatively new to Instagram - she joined last year - but she's maxing it with every post. Katrina has 9.7 million followers and constantly posts pictures from her vacations, workout sessions, dance rehearsals and has now come up with this unique idea of wishing her friends from Bollywood.
In fact,
Aamir Khan has featured in some of Katrina's posts
.
Anushka Sharma
Next on the list is Aamir Khan's
PK
co-star Anushka Sharma. With 627 posts and 16.5 million followers, Anushka's Instagram account is every sort of fun. Anushka also makes the best use of social media to promote her films and to make personal and professional announcements. Sometimes, she strategically posts pictures of herself and husband Virat Kohli.
Last year, she conducted an innovative marketing campaign for her film
Phillauri
using the theme 'Shashi was here.'
Yes, Anushka too has posted collages on Instagram - for instance, in aid of her film
Pari
- but she chooses the moment so as to maximise impact.
Amitabh Bachchan
Aamir's Thugs Of Hindostan co-star Amitabh Bachchan is 75 but more social media savvy than many half his age. He often uses his Instagram account to post pictures of his family members and sometimes share throwback photos. He follows no one but 8.1 million people follow him. For good reason.
Aamir, we also wish to see some pictures like this.
Dangal stars Fatima Sana Shaikh and Sanya Malhotra
They played Aamir's daughters in Dangal and, quite likely, consider him as frustratingly parent-like in terms of using social media tech as many of us do our own dads. If they don't, they should. Fatima is also one of the Thugs Of Hindostan cast.
Meanwhile, this was Aamir's second collage, which has been replaced by the new one,
featuring him and Azad in an adorable father-son moment
(Their dog was also a part of the frame).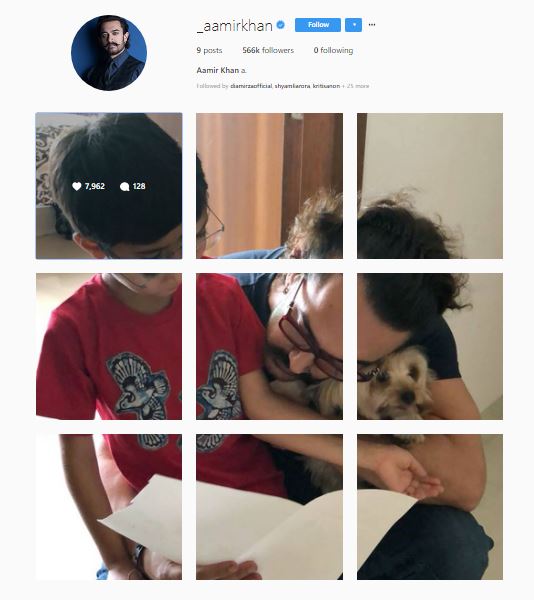 His first post, shared on his birthday, was a collage of mother Zeenat Hussain.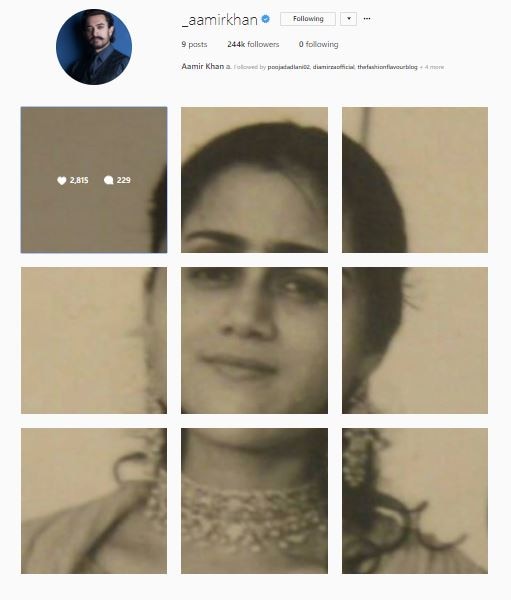 Dear Aamir Khan, put down that laptop/tablet/phone and back slowly away from Instagram. Now consult your co-stars. Then post. Looking forward.
Get Breaking news, live coverage, and Latest News from India and around the world on NDTV.com. Catch all the Live TV action on NDTV 24x7 and NDTV India. Like us on Facebook or follow us on Twitter and Instagram for latest news and live news updates.