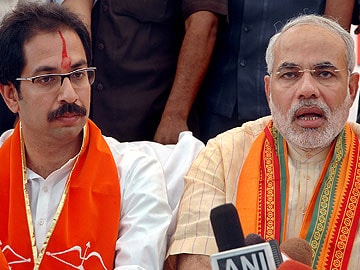 Mumbai:
The BJP today faced another scathing attack from its oldest partner Shiv Sena, which has come out with an editorial tearing into its handling of alliances.
Sena chief Uddhav Thackeray said his editorial was a reminder that the BJP should "move speedbreakers" in the alliance, and he had conveyed this to Rajnath Singh and
Narendra Modi
.
"The BJP appears to be doing deals with new parties while keeping existing allies in the dark," Mr Thackeray wrote in his party mouthpiece Saamna. (
Protests within force BJP top brass to take stock of poll alliances
)
He has been bristling at the BJP's overtures towards his estranged cousin Raj Thackeray, whose Maharashtra Navnirman Sena or MNS has been eating into the Sena's votes in polls since its inception in 2006.
After a meeting with the BJP's Nitin Gadkari, Raj Thackeray last week said he would back Narendra Modi, the BJP's prime ministerial candidate, but would not sit the polls out; he will field candidates against the Sena.
A string of BJP leaders, including Mr Modi, tried to placate a furious Uddhav Thackeray.
The Sena leader clearly remains unconvinced. He has pointed at the BJP's troubles with allies like Chandrababu Naidu and Kuldeep Bishnoi, who are reportedly upset at the induction of former Congress minister Purandeswari and a possible tie-up with Haryana politician Om Prakash Chautala respectively. (
Chandrababu Naidu hints at tie-up with BJP
)
"Leaders like Modi, Rajnath and Rudy may have applied balm on the strain in BJP- Shiv Sena ties, but what's the guarantee that there will be no strain in the future?" he questioned, betraying his worry that the BJP could reach out to Raj Thackeray again.
"If Pramod Mahajan were alive the strain would have been less," the Sena chief said, referring to the late BJP leader who was known for his party management skills.
The editorial went on to remind the BJP that it is a national party thanks to its regional allies, and even its tallest leaders, like Atal Behari Vajpayee and LK Advani, had to take them along to form a government.
The BJP downplayed the Sena's latest attack, describing it as "friendly advice."
The party's Prakash Javadekar said, "The matter between BJP-Shiv Sena was already sorted out and now there are no issues. We are permanent allies and we will fight to win in Maharashtra."
Get Breaking news, live coverage, and Latest News from India and around the world on NDTV.com. Catch all the Live TV action on NDTV 24x7 and NDTV India. Like us on Facebook or follow us on Twitter and Instagram for latest news and live news updates.