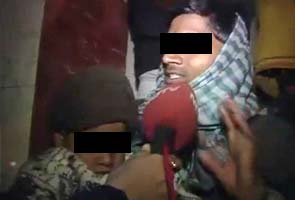 New Delhi:
On the coldest day in Delhi in 44 years on Wednesday, a six-year-old cancer patient was forced to sleep in a public toilet outside the All India Institute of Medical Sciences (AIIMS).
The child has lost both his eyes due to cancer in the last three years that he has been coming here for treatment from Bulandshahr in Uttar Pradesh. Since the child has not been given a bed, he braves the bone-chilling cold with his father, every night in a public toilet.
The father-son duo is not alone. With temperatures in the capital dipping drastically, about 20 homeless people take shelter in this public toilet every night. They cook their food and sleep here - most of them are getting their relatives treated in AIIMS, one of India's biggest hospital.
The Delhi government has arranged about 150 shelters for the homeless, but with around three lakh people on the streets of Delhi, all shelters are already saturated.
These people outside AIIMS say they would rather stay on the footpath or this toilet than the government-run shelters, due to the extremely unhygienic conditions and congestion there.
Last year too NDTV had reported this public toilet being used as a shelter by the homeless patients and their relatives. The police had then removed the homeless from here, but with nowhere to go, the cold has forced them to take shelter in a public toilet yet again.
(
Thousands of people in Delhi are in need of your help. Please donate blankets for them. For details, read: This winter, help keep someone warm. Donate a blanket.)