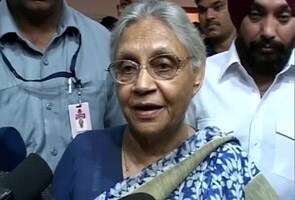 New Delhi:
Sending a subtle message to her detractors, Chief Minister Sheila Dikshit today reshuffled her Cabinet by dropping a Minister and inducting a loyalist while indicating change in portfolios of almost all other Ministers.
Social Welfare Minister Mangat Ram Singhal was axed while 67-year-old Ramakant Goswami, a three-time MLA, was inducted into the Council of Ministers in the revamp described by Dikshit as an effort to "bring fresh idea" into the government.
Goswami, a journalist-turned-politician representing Rajinder Nagar constituency in assembly, was administered oath of office by Lt Governor Tejinder Khanna at a function, attended by Dikshit, her ministerial colleagues and top brass of Delhi Government.
Sources said in redistribution of portfolios, Dikshit is likely to divest senior Minister A K Walia of the Finance and Urban Development departments and he may be given charge of Health and Revenue departments. The Chief Minister may bring the Finance Department under her control.
Walia is not known to have best of relations with the Dikshit and there has been difference of opinion between the two in several matters related to finance.
Describing the revamp as an exercise to bring fresh thoughts into the Cabinet, Dikshit said the reshuffle has been made with "blessings" from the party high-command.
"The idea is to bring fresh air into the Cabinet with a fresh face. Our commitment to the people and to the work we are doing remains as it is. While carrying out the exercise, care has been taken to ensure continuity," Dikshit told PTI.
Sources said Singhal, who had hit the headlines for wrong reasons many times in the last two years, was removed for his "non-performance" in the reshuffle, the first such exercise by Dikshit in her third consecutive term as Chief Minister.
They said newly inducted Goswami may be given the charge of Education Department while Urban Development Department may go to Raj Kumar Chauhan, a staunch Dikshit loyalist. Chauhan is likely to be divested of Revenue and Development Departments while he is set to retain PWD.
The reshuffle takes place just two months after Dikshit completed two years in office in her third consecutive term as Chief Minister. Dikshit held a series of meetings yesterday to finalise the exercise.