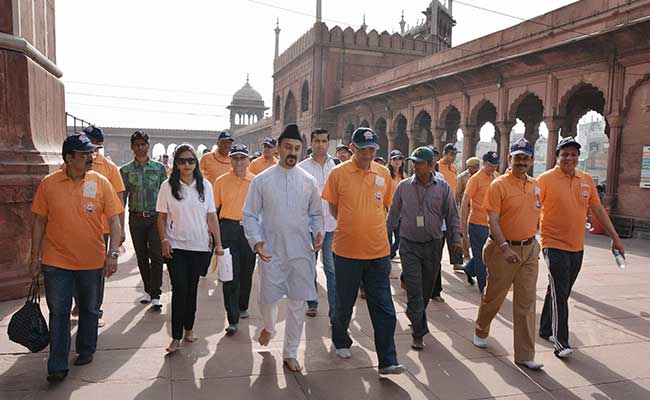 New Delhi:
With a host of activities including theme quizzes, walks in the Old Walled City and fort areas and workshops and lectures on restoration, Delhi today marked the World Heritage Day with much enthusiasm.
Heritage body Indian National Trust for Art and Cultural Heritage (INTACH) and Delhi Metro organised a 'heritage walk' early in the day to spread awareness about the city's cultural and architectural legacy.
"We held an open heritage walk at the Puran Qila in the morning, which was attended by Delhi Tourism Minister Jitender Singh Tomar. Later in the evening we are also hosting an open quiz at Delhi Haat at INA, titled 'Sawal Dilli Ka', to make people engage with their city and its history and heritage," Convener, INTACH's Delhi Chapter, AGK Menon told PTI.
The ruins of the fort site, constructed between 1530 and 1538, is from Mughal emperor Humayun's city of Dinpanah. The walk was led by an architectural conservation expert.
Delhi Metro too marked the day with a heritage walk from Chawri Bazar to Chandni Chowk, delighting participants with cultural and gastronomical wealth the region houses.
"The walk covered many locations of great historical importance such as Jama Masjid, Red Fort, Gauri Shankar Mandir, Gurudwara Sisganj Sahib and the famous Paranthe Wali Gali," a metro official said.
Experts from city-based 'Delhi Walks' conducted the nearly two-hour-long tour and explained in detail about the importance of various monuments. More than 50 people participated in the event, he said.
Delhi has three world heritage sites - Red Fort, Humayun's Tomb and Qutub Minar.
Non-profit organisation Aga Khan Trust for Culture (AKTC) too marked the day by celebrating the legacy of the country.
"We held a heritage walk in the morning for children and about 600 of them turned up. The walk in the area was guided by local people of Nizamuddin Basti and then conservation experts also explained the craft techniques used traditionally in restoration process," Project Director, AKTC said.
"Later quizzes were held in several batches for children. Awareness workshops - focused on Rahim's life and works - and at the tomb of Abdur Rahim Khan-i-Khanan on Mathura Road were also held.
"Later in the evening, the restored Mughal-era Batashewala Garden Tomb complex, spread over 11 acres, adjacent to World Heritage Site of Humayun's Tomb will be thrown open to the public," he said.
Proposed by the International Council on Monuments and Sites (ICOMOS), April 18 was endorsed as The International Day for Monuments and Sites by UNESCO in 1983, popularly known as the World Heritage Day.
2015 also marks 50 years of France-based ICOMOS.
In the evening, INTACH is also holding a talk on 'Bringing Old Buildings to Life'.
The Delhi Circle of Archaeological Survey of India (ASI) also held a photo exhibition at the Red Fort on the city's baolis to mark the occasion.