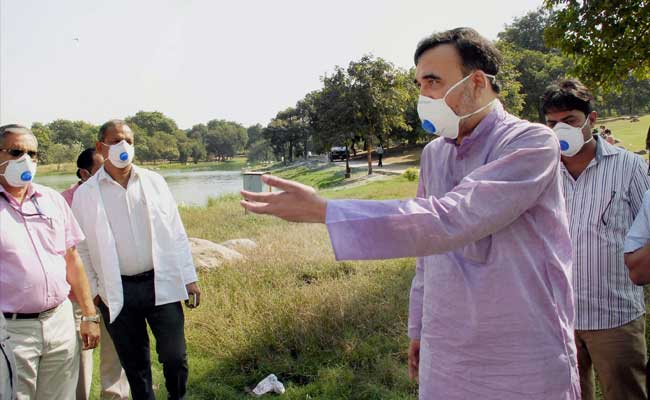 New Delhi:
The memorial of former Prime Minister Indira Gandhi, Shakti Sthal, had to be closed today as two more ducks succumbed to suspected avian influenza there, taking the toll in the national capital to 66.
After visiting the spot and meeting officials, Delhi Development Minister Gopal Rai said the memorial will remain shut till the lab report of the dead birds comes.
Mr Rai later met Union Agriculture Minister Radha Mohan Singh and urged him to direct both the Centre-run laboratories in Jalandhar and Bhopal to expedite the test reports so that the city government can take preventive steps.
Mr Rai also requested him to issue a health advisory to make people aware about dos and dont's in the wake of the avian influenza gripping parts of the city.
"Since October 19, Delhi government has sent 34 samples and 51 samples of dead birds to both labs in Jalandhar and Bhopal respectively, but there is a delay in reports. Out of 81 samples, we have just got reports of 27 samples.
"In view of this, I have urged the Union Agriculture Minister to instruct these two labs to send sample reports to the Delhi government at the earliest," Mr Rai said.
A total of four birds have been found dead at Shakti Sthal, which has a number of waterbodies, until now. Meanwhile, Delhi zoo and Deer Park, that saw bird deaths earlier, continue to remain shut although no new report of death has been reported there.
Mr Rai termed it as a "sign of relief".
At Shakti Sthal, Rai held a meeting with officials to take stock of the situation where he issued directions to arrange boats to spray anti-virus medicine in the lake.
Mr Rai said that he has urged the Centre to send instructions to all its departments to spread 'chuna' (lime powder) around every water body besides spraying antivirus Sodium Hypochlorite around all water bodies where birds gather.
Yesterday, the city administration had issued an 11-point health advisory asking people not to eat half-cooked chicken and eggs.
Mr Rai said that Delhi zoo, Deer Park and Shakti Sthal come under the jurisdictions of centralised agencies and hence sought the Centre's instructions to its different departments regarding precautionary measures.
According to him, the Union Agriculture Minister has called a meeting with officials on avian influenza on October 27 to take stock of the situation.
A team of National Institute of Virology yesterday collected samples from Delhi zoo to ascertain the reason behind the avian deaths.
The government has formed a 12-member team of all three municipal corporations. The team will be given training tomorrow on how to deal with bird flu.