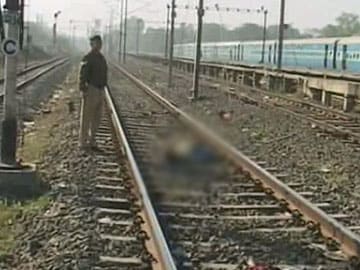 Indore:
A-12-year old boy was allegedly made to pick up a mutilated body part of a suicide victim from the railway track in Indore by the railway police officials. A top level police investigation has been ordered into the case.
The men in uniform reached the tracks a little later after a labourer named Dhanraj reportedly threw himself in front of the train and committed suicide. One of the railway police officials reached the spot and waited for other team members. The body lay on the track while other trains continued to pass over it.
Finally, the officials shifted the body from the track. However, a mutilated limb was left behind on the track. The officials then allegedly made a minor rag-picker do the job.
"The police asked me to pick up the mutilated body part. I refused but they pressured me," the boy said.
After this shocking incident was raised by the media, senior railway police officials sprung into action and a DSP level probe was ordered in the case.
Deputy Superintendent of Police GRP Mankamna Prasad told NDTV,"We have recorded statement of our officials but we are not able to trace the boy. Our team is looking for him. As soon as we record his statement I will submit the investigation report. If officials are guilty we will make sure they face departmental exchange."
The State Commission for Protection of Child rights is closely monitoring the developments in this case, and will be seeking a report from the railway police on the issue and also the action they propose to take. The commission is worried about the minor who they fear may be psychologically affected by the incident.
Chairman of State Commission for Protection of Child rights told, NDTV,"This incident may instil a sense of fear in the mind of the boy which can affect him life long. So the child will need counselling. We will also order the SP to trace that boy and do the needful for him."
This is not the first time that such incident has been reported in Indore. Two years ago, a minor was asked to pick up body parts from the track. In that case, railways police officials were found guilty and also had to face punishment.