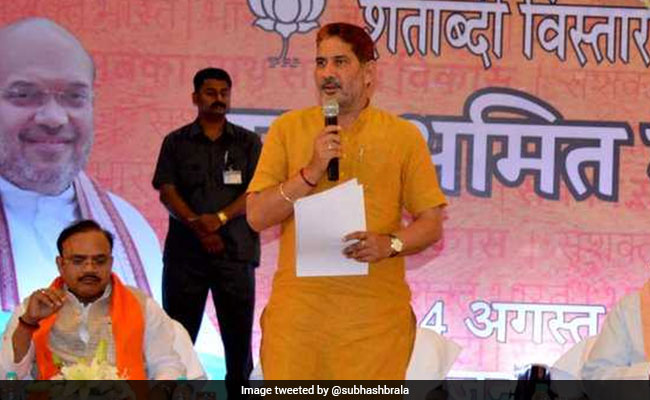 Chandigarh: Two days after a woman was chased on the streets of Chandigarh, tailgated and almost kidnapped allegedly by the Haryana BJP chief Subhash Barala's son, the party has dismissed calls for the veteran's sacking. 23-year-old Vikas Barala and his friend are accused by Varnika Kundu, the daughter of a Haryana bureaucrat, of stalking and terrorizing her in a harrowing account posted on Facebook. The two were out on bail within hours of their arrest because the charges against them were bailable. Chandigarh police say they have retrieved footage from five CCTV cameras that captured the chase, rebutting Congress claims that five of the seven cameras on the route were missing.
Here are the latest developments in this big story:
Varnika Kundu, a DJ, wrote in her Facebook post that the men blocked her way, banged on her windows and even tried to force the door open. Finally, a police patrol team came, responding to her SOS.
The 29-year-old wrote: "I'm lucky, it seems, to not be the daughter of a common man, because what chance would they have against such VIPs? I'm also lucky, because I'm not lying raped and murdered in a ditch somewhere."
"Chandigarh police has retrieved footage of five CCTV cameras on the route capturing the chase of Victim's vehicle by the alleged vehicle," senior officer Satish Kumar told NDTV. Asked about the allegations of missing cameras, he said, "Nobody is actually bothering to check the facts".
The police are yet to add the charge of kidnapping, an offence that does not allow bail. A senior Chandigarh police officer, Eish Sehgal, called it a "sensational case of stalking" and said: "We are investigating case with an open mind - if there is a section that needs to be added we shall add. Don't make this a media trial."
Speaking to NDTV, Ms Kundu said after being caught, the two claimed "it was a mistake". She commented: "A mistake happens once...not for kilometres...Cops shouldn't have to come and stop you."
Mr Barala's deputy Ramveer Bhatti was skewered on social media for questioning why Ms Kundu was "allowed to stay out late". "Parents must take care of their children... they shouldn't allow them to roam at night. Children should come home on time, why stay out at night?" Mr Bhatti said.
"It is none of his business, it is my business and my family's what I do and where...If it wasn't for men like these, I wouldn't be unsafe going out... whether it was 12 am or 2 am or 4 am," Ms Kundu hit back.
The comments were also denounced by the opposition Congress. Congress's Amarinder Singh, who is also the Chief Minister of neighbouring Punjab, tweeted, "I strongly condemn stalking of Chandigarh girl by @haryanabjp leader's son. CM @mlkhattar should ensure that charges are not diluted".
Kirron Kher, the BJP MP from Chandigarh, condemned her party colleague Mr Bhatti's comments and said: "There is no watering down of the case. I have been assured that the CCTV footage will be safe and the police will act."
Though she complained about the intention of the men to abduct her, the police have only added a "wrongful restraint" charge to her original FIR of stalking. Denying any political pressure, the police said the woman did not refer to kidnapping in her statement before the magistrate. The police say they are taking legal opinion on adding harsher charges against the BJP leader's son.