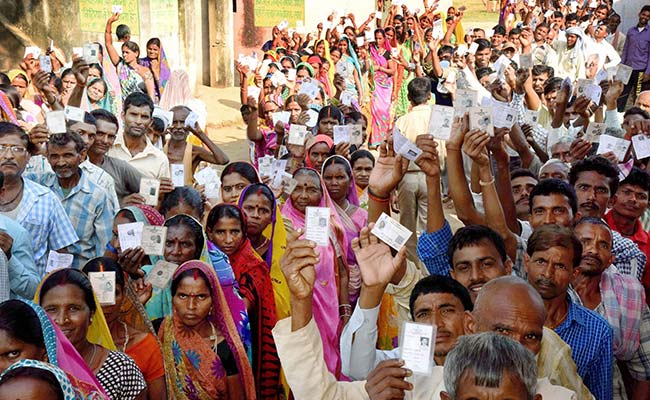 Patna:
Who will rule Bihar for the next five years, Nitish Kumar-led Grand Alliance or the BJP-led NDA? The people were talking the issue like never before today, a day ahead of the counting of votes polled in the just-concluded five-phased assembly polls.
Be it market places, tea stalls or party offices, people are busy exchanging their views on outcome of the polls to the 243-member assembly that took place between October 12 and November 5.
Most of the conversations are around charishma of Nitish Kumar and RJD chief Lalu Prasad and Prime Minister Narendra Modi.
"The answer will be known on Sunday when million of votes will be counted... elections were violence free and peaceful and saw more women than men coming out to exercise their franchise," Subodh Kumar, a middle-aged man, said while sipping tea near a roadside shop.
Dozens of SUVs were parking near BJP state headquarters here and party workers at two-three tea shops debating the clear chance of the party to rule Bihar for next five years.
"We are confident and exit poll surveys have given us more hope," said Chandradeo Singh, a party leader.
The battle to rule one of India's poorest states, with a population of 105 million, pitted Chief Minister Nitish Kumar and his new ally Lalu Prasad's RJD and the Congress against the-BJP led NDA.
The BJP allies are union minister Ram Vilas Paswan's Lok Janshakti Party, union minister Upender Kushwaha's Rashtriya Lok Samata Party and former chief minister Jitan Ram Manjhi's Hindustan Awami Morcha.
"Lalu ji will prove right, we will get 190 seats," RJD worker Rajender Rai said near the main gate of RJD office here. Some JD-U workers were also debating about the result at party office in Patna.
Though exit polls have been divided with some predicted a victory for the BJP-led NDA and others predicted victory to Nitish Kumar-led Grand Alliance.
Ramchander Prasad, a small furniture shop owner at Nala road in heart of Patna, said Nitish Kumar should get another chance to rule. "For businessmen, he is the best, lets see what happen on November 8," he said.
Counting of votes will begin at 8 am and first trends would be available between 9 am and 10 am, sources in the Bihar chief electoral officer's office said.
"The electronic voting machines in all the constituencies will be opened for the counting amid tight security and under constant vigil of Election Commission officials," an official said.
"We have made elaborate security arrangements to prevent any untoward incident," Bihar Police chief P K Thakur said, adding that all five phases had passed peacefully except for stray incidents of violence.
According to the Election Commission, millions of votes were polled to decide the fate of 3,450 candidates, including 272 women. Over 66.8 million voters were eligible to exercise their franchise.
In a remarkable development, Bihar witnessed record turnout of women in all the five phases.
"This was a positive sign for democracy as well as for society because the high percentage of women votes suggest that they voted as per their choice," woman activist Kanchan Bala said.
According to political analysts, this was the first time that the development plank along with caste and communal polarisation dominated the polls.