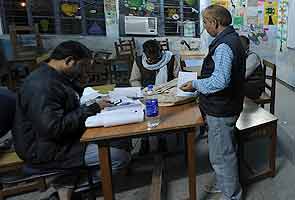 Lucknow:
Uttar Pradesh is voting in the sixth phase today and the Congress' sagacity in entering a pre-poll tie-up with Ajit Singh's Rashtriya Lok Dal will be put to test. The 68 assembly segments spread over 13 districts that are voting lie in western UP, traditionally a stronghold of the new Aviation Minister.
The polling started on a brisk note with about 10 per cent of the over 2.17 crore voters exercising their franchise in the first two hours.
"Polling started at 7 am and 9.73 per cent votes were polled in the first two hours," Chief Electoral Officer Umesh Sinha said.
Maximum 14 per cent votes were polled in Hathras district. Among other districts, 11.7 per cent votes were polled in Saharanpur, 10 per cent in Meerut, 10.7 per cent in Agra, 11.71 per cent in Aligarh, 9.2 per cent in Bulandshahr and nine per cent in Prabuddha Nagar.
Polling in Noida, Dadri and Jewar assembly seats in Gautam Budhh Nagar was going on peacefully. In Bhatta-Parsaul villages, which were at the centre of the land acquisition row, farmers were seen coming out to vote.
Their leader Manvir Singh Tevatia, who had spearheaded the farmers' agitation, was fighting election from jail. The area falls under Jewar Assembly seat. The Congress has fielded Dhirendra Singh from here. He was the man on whose bike Congress general secretary Rahul Gandhi had reached Bhatta-Parsaul last year.
In Chief Minister Mayawati's native Badalpur village, farmers had lined up to cast their vote. BSP has fielded Satvir Gujjar sitting MLA from here while Congress has fielded Samir Bhatti.
Bhatti had once served as MLA from Dadri and his father Mahinder Singh Bhatti was twice MLA from here. BJP has fielded Nawab Singh Nagar, who was twice elected MLA from here in the past. Samajwadi Party has fielded Raj Kumar Bhatti as candidate.
Ajit Singh's son, Jayant Chaudhury, an MP from Mathura is contesting from the Maath assembly seat in his Lok Sabha constituency. He made news recently for being seen on an election rally stage accepting cash from a local leader. Mr Chaudhury steadfastly held that it was all above board and got a clean chit from the Election Commission, which found that the Rs 51,000 that he was handed, was money given for election management.
The young MP's battle in Maath is interesting. He takes on a veteran local politician and five-time MLA Shyam Sundar Sharma, who is contesting on a Trinamool Congress ticket. The Trinamool, like the RLD now, is a UPA partner at the Centre. Mr Sharma has won two of his terms on a Congress ticket and thrice as an Independent. Mr Chaudhury will be counting on the Jat vote to see him through - the region that votes today is called the Jat land of a state where caste is an important factor in elections.
All political parties have campaigned extensively in this area that borders the national capital. Noida or Gautam-buddh Nagar votes today, as do Saharanpur, Meerut, Ghaziabad, Aligarh, Muzaffarnagar, Mathura, and Agra.
Among other political heavyweights whose fates get decided today are deputy leader of the BJP Legislative Party, Hukkum Singh, and former minister Rajveer Singh, who is also son of former Chief Minister Kalyan Singh. Mayawati's Energy Minister Ramveer is seeking election from Sikandrarau seat in Hathras district and his cabinet colleagues Jaiveer Singh and Dharm Singh Saini are contesting from Barauli and Nakud respectively.
The Samajwadi Party will count on an appeal made by the Shahi Imam of Delhi's Jama Masjid Maulana Ahmad Bukahri in its favour; the Imam's son-in-law Umar Ali is contesting from Behat in Saharanpur district.
"More than 2.17 crore voters are expected to cast their votes at 22137 polling centres," the Election Commission has said. A total of 1103 candidates, including 1017 men and 86 women are in the fray in this phase.
(With PTI inputs)