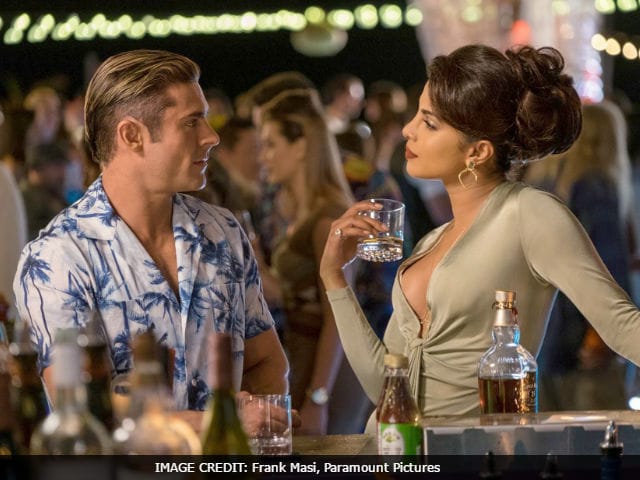 Washington:
The remake of
Baywatch that drifted ashore this weekend
is distinguished mostly by the presence of Dwayne Johnson - one of the most popular movie stars in America and a man I might have accidentally turned into a presidential candidate - and a couple of decent running jokes.
One, of course, is about running: The movie takes the original television series' tendency to shoot its female stars jogging in asset-jiggling slow motion and treats this stylistic convention as if there's a reality-warping force at work.
Maybe CJ Parker (Kelly Rohrbach) is just so gorgeous that time and physics really do operate differently when she's in the general vicinity. This, of course, is not enough to hang a movie on, and neither are the other two gags, which mostly serve to illustrate that
Baywatch
would have been a funnier movie if it were willing to be a more polemical one.
One of these jokes concerns the film's villainess, Victoria Leeds (Priyanka Chopra,
who still has yet to land an American project of much substance
). Victoria is the newest owner and operator of a ritzy club right on the water in Emerald Bay, and when we're introduced to her, we learn that she's determined to buy up the rest of the bayfront real estate.
As she explains to Councilman Rodriguez (Oscar Nunez of
The Office
), Victoria is motivated to succeed in America because her father wasn't willing to entrust the future of his business to a girl. Her real plan, though, isn't to become a great developer; it's to control the Emerald Bay waterfront so that she can bring in shipments of lethally potent drugs without having to be particularly sneaky about it.
All of these shenanigans, and Victoria's penchant for murdering anyone who doesn't move fast enough or behave compliantly enough for her liking, culminate in a throwaway line. When she's facing criticism for her behavior, Victoria whines, "Is it because I'm a woman?"
There was a solid opportunity here for
Baywatch
to tee up on a particularly bogus attempt to rebrand feminism that has been so integral to Hollywood action movies. This school of thought, which argues that anything a woman does that involves force or self-actualization is automatically personally empowering and therefore feminist, gives the entertainment industry an awful lot of cover. You don't have to give a woman a backstory, or a personality, or reconsider the fundamental dynamics of action movies when all it takes to qualify as feminist is for a woman to punch someone, or stylishly pursue an evil plot.
Focusing Victoria's plot more sharply on her conviction that smuggling drugs, privatizing a public beach, murdering people to close real estate transactions and feeding irksome tech guys (an underused, but supremely chill, Hannibal Buress) to the sharks are all feminist acts would have been funnier than her bland vamping, and it
would have made Baywatch a sharper movie, too
.
Exposed and bouncing female flesh is absolutely integral to the
Baywatch
brand: A movie that's not about ogling the lifeguards wouldn't be a
Baywatch
movie at all. But if you can't make the franchise a feminist triumph without turning it into something else entirely, director Seth Gordon and the six people who helped write the script could have at least sharpened the point that a lot of what passes for female empowerment in Hollywood is fairly typical macho nonsense or rapacious criminality poured into a nice dress.
In a similar way, the movie has a running subplot in which Sgt. Ellerbee (Yahya Abdul-Mateen II), an actual cop who patrols Emerald Bay, wearily protests that super-lifeguard Mitch Buchannon (Johnson) is not actually a police officer, despite Mitch's penchant for acting as though he's leading some sort of elite tactical squad. Because this is an action movie, and Johnson is starring in it,
Baywatch
has to side with Buchannon, even as it occasionally acknowledges that his commitment to the bay periodically veers on the ridiculous. Watching him holler "I'm oceanic!" at a pivotal moment doesn't exactly undercut that Buchannon is right and Ellerbee is wrong at every turn, even if the two men do end up working together.
Like
The LEGO Batman Movie
, which also gained some of its friction by teaming up a rule-breaking vigilante (Will Arnett's Batman) with a competent, exasperated cop (Rosario Dawson's Barbara Gordon),
Baywatch
dabbles in the idea that vigilantes might be wrong before tossing those concerns aside. I'm not saying that either movie needed to be a prissy argument for letting the police do their jobs: God knows Hollywood has spent enough time doing public relations for cops. But
Baywatch
is aware of just how ridiculous it is, and Johnson is a big enough star to play with his image.
Making Mitch fully delusional but accidentally right would have gone a lot further to making
Baywatch
the sort of truly meta riff on the brainless original that it badly wanted to be.
©2017, The Washington Post
(Except for the headline, this story has not been edited by NDTV staff and is published from a syndicated feed.)