Thanjavur:
Highlights
Tamil Nadu farmer beaten up by cops on camera
He defaulted on loan, cops seized his tractor
Mallya gets away, poor farmers are harassed, said his wife
Vijay Mallya, who owes nearly a billion dollars to banks, has left the country despite a warning or look-out notice issued to airports to prevent the liquor baron from travelling abroad. But in Tamil Nadu, a farmer, who owes Rs 1.3 lakh to a bank for a loan he took for a tractor, was beaten by the police over and over.
A witness filmed the violence in the Thanjavur district on Friday. The video shows the farmer, G Balan, being assaulted. His wife, B Keerthana said, "We borrowed Rs 3.4 lakh in 2011 and have already paid Rs 4.1 lakhs including interest. Due to a failed crop we couldn't pay the pending last two instalments. Vijay Mallaya owes hundreds of crore, he's let off. We poor farmers are harassed".
Mr Balan's crop had failed, leaving the 40-year-old unable to pay off his loan. The police ignored his pleas and took away his tractor. He says he now has no way to transport his sugarcane crop to the local centre where it is crushed. (For details of how you can help, scroll below.)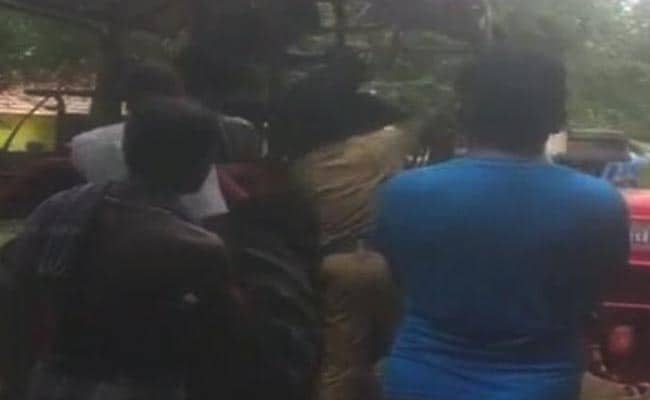 Inspector General of Police Senthamarai Kannan said, "The bank had obtained a court order to seize the tractor. Our men were sent to give protection to the person appointed to recover it. We are merely implementing the order".
Successive years of drought have left farmers across India struggling with debt.
Mr Mallya was granted huge loans by many state-run banks without adequate security for his Kingfisher Airlines even though it was clear the company was collapsing under the weight of its own extravagances. The government acknowledged yesterday that while banks had asked the Supreme Court to ban the 60-year-old from leaving India, he had travelled abroad last week.
These are the bank account details of Mr Balan:
G Balan
A/c No. 6248477705
Indian Bank
Thondarampattu branch
IFSC: IDIP000T085
Note: This information has been provided/published on a good faith basis, without any commercial motive. NDTV does not vouch for the authenticity of the claims made by the intending donee, nor can we guarantee that the donations made by a donor will be used for the purpose as stated by the intending donee. You are requested to independently verify the contact information and other details before making a donation. NDTV and/or its employees will not be responsible for the same.
Get Breaking news, live coverage, and Latest News from India and around the world on NDTV.com. Catch all the Live TV action on NDTV 24x7 and NDTV India. Like us on Facebook or follow us on Twitter and Instagram for latest news and live news updates.