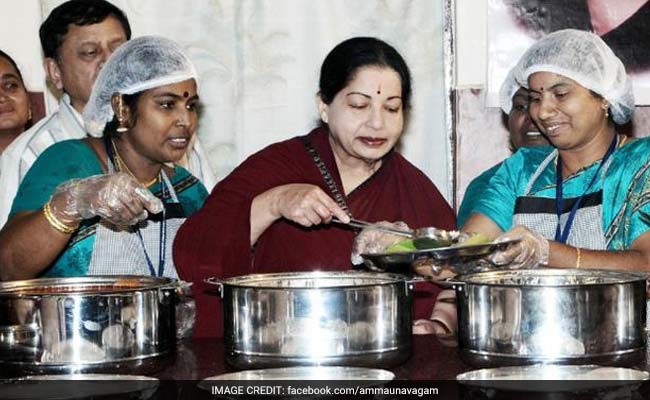 Highlights
Jayalalithaa won the 2011 elections with a slew of freebies
She insisted that the populist schemes were aimed at helping the poor
She broke 32-year-old jinx where a ruling party could seldom retain power
Chennai:
Freebies galore and populist schemes under the popular 'Amma' brand became the hallmark of late J Jayalalithaa's tenure as Chief Minister, helping her steamroll arch-rival M Karunanidhi's DMK in this year's Assembly polls.
From the Amma canteens to Amma gymnasiums and parks, the brand became synonymous with her name.
Mr Karunanidhi may have revolutionised the freebies culture in Tamil Nadu but Ms Jayalalithaa mastered the art right under his nose, showering a slew of freebies in 2011 and 2016 on voters.
However, Ms Jayalalithaa always took exception to the term 'freebies' and chose to call them free of cost, insisting that the populist schemes were aimed only at helping the lower rung masses.
In the battle of freebies that intensified in 2006, Mr Karunanidhi's masterstroke of free colour TV scheme among others launched DMK into the ruling saddle but in 2011 and 2016, Ms Jayalalithaa emerged triumphant wooing voters with her own brand of welfare schemes.
Combined with anti-incumbency, Mr Jayalalithaa checkmated Mr Karunanidhi in the 2011 elections with a slew of announcements including providing free rice, laptops to students, milch cows and goats, mixer-grinder, and gold for 'thali' (mangal sutra) and pushed DMK into the third place in the Assembly, making then ally DMDK main opposition.
Ms Jayalalithaa further consolidated her welfare icon image with her Amma brand subsidy-oriented schemes like Amma Canteen, Amma Mineral Water, Amma cement and Amma salt.
During the 2016 elections, Ms Jayalalithaa expanded her populist portfolio, including free 100 units of power for domestic users, free mobile phones and 50 per cent subsidy for women to buy two-wheelers.
She subsequently led her party to a historic successive term in May 2016 Assembly polls, breaking a 32-year-old jinx where a ruling party could seldom retain power.