Chennai:
Highlights
Senior AIADMK leader Madhusudhanan joins Panneerselvam
Opponent Sasikala backed by about 130 of 135 legislators
Just this group cannot speak for people of Tamil Nadu: Team Panneerselvam
O Panneerselvam, mid-stream a big political turnaround, on Thursday said that opponent VK Sasikala "is lying when she says she never betrayed Amma", invoking former Chief Minister J Jayalalithaa, who died in hospital in December. Mr Panneerselvam is on a mission to retain his job as Chief Minister - he resigned on Sunday, a decision that he says was forced on him by Ms Sasikala. On Wednesday, it was she who called him a liar and betrayer, in a speech delivered to a full house - all but three legislators from their party, the AIADMK, were present to convey their support for Ms Sasikala to become head of the government.
What "Amma" wanted is being bandied about freely by the rival camps - though Mr Panneerselvam's flock is limited to about six people, it made a big catch with party no. 2 E Madhusudhanan joining his team, which includes V Maitreyan, another senior leader and parliamentarian. On the other hand, Ms Sasikala, who lived with Ms Jayalalithaa for years, has about 130 of the party's 135 legislators on her side. Most of them are being held in resorts and hotels scattered across Chennai to prevent them from being approached by Mr Panneerselvam.
But in what could be seen as a gesture to place Mr Panneerselvam and Ms Sasikala at par, Governor C Vidyasagar Rao, who returned to Chennai yesterday and will decide what happens next, met both leaders last evening, with Mr Panneerselvam going first.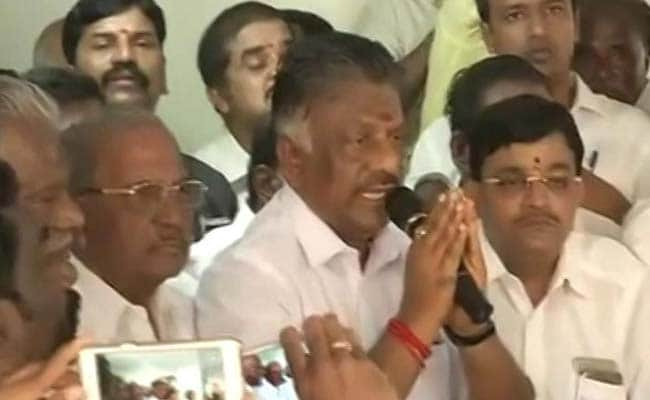 "What 127 MLAs want cannot decide the future of all of Tamil Nadu," said Mr Madhusudhanan, referring to the overwhelming majority of law-makers who have sided with Ms Sasikala. It is a sentiment that is also raging online, with several campaigns and petitions declaring that the AIADMK cannot install as Chief Minister a political rookie whose sole claim to power is her proximity to the charismatic and authoritative figure that till so recently led the party.
Ms Sasikala's established role as Ms Jayalalithaa's closest aide meant that when the latter died, the former was embraced by the AIADMK as its new leader. Before Ms Jayalalithaa's funeral, Ms Sasiakala had insured that Mr Panneerselvam took oath as Chief Minister - the quick succession was aimed at blocking off any competition among aspirants for the top job that was suddenly vacant. Mr Panneerselvam seemed the natural choice - he had stood in twice for Ms Jayalalithaa when she was removed from office on charges of corruption, and while she was in hospital, he was entrusted to handle the important departments that she personally supervised.
After Mr Panneerselvam was made Chief Minister, Ms Sasikala was elected the party's General Secretary - the top role within the AIADMK which had been held by Ms Jayalalithaa for nearly two decades. Then, on Sunday, the party said that it wanted her to be the new Chief Minister. Mr Panneerselvam says he fought the proposition for two hours, and has since revealed that the original plan for the party revamp was to make Mr Madhusudhanan the General Secretary.
Two days after he resigned, Mr Panneerselvam surfaced dramatically at Ms Jayalalithaa's memorial on the beach, where he sat with his eyes closed for 40 minutes, then stood up, wiped his eyes of tears, and flipped the switch from unquestioning party man to a fighter willing to tell all.
His stealth attack may have flopped had it not been for the surprise volume of ammunition provided by social media where people are objecting en masse to plans for Ms Sasikala's takeover. Among her weaknesses are the male relatives of her family, repeatedly entangled in corruption cases, and firmly rejected by Ms Jayalalithaa. Next week, the Supreme Court is scheduled to decide whether Ms Sasikala herself aided Ms Jayalalithaa in amassing an illicit fortune that they jointly shared in the early 90s.
Mr Panneerselvam, in contrast, is getting props including from celebrities like actor Kamal Haasan for delivering on the job since he took over as Chief Minister. When Ms Jayalalithaa died, careful and quick implementation of security plans ensured that her supporters, known for hysterical expressions of grief, did not turn violent. When thousands of students led a nearly-week long protest at Marina Beach (where Ms Jayalalithaa is buried), the government for the most part handled the huge sit-in with poise, though the last day erupted in violence.
"He has done his job fairly well," said Kamal Haasan to NDTV last night, stressing that he has not been a fan of Mr Panneerselvam in the past.
Get Breaking news, live coverage, and Latest News from India and around the world on NDTV.com. Catch all the Live TV action on NDTV 24x7 and NDTV India. Like us on Facebook or follow us on Twitter and Instagram for latest news and live news updates.