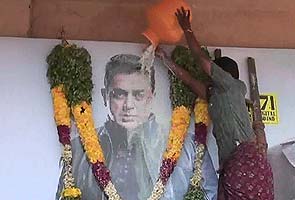 Chennai:
Kamal Haasan has been closeted in a meeting with his lawyers this morning, but there are reports that he might not take his battle over the ban on his big-budget film Vishwaroopam to the Supreme Court just yet.
Sources said that his lawyers have prepared an appeal, but the actor is inclined to wait as several influential colleagues from the film fraternity intervene on his behalf with the government. The actor is expected to fly to Mumbai soon today.
Yesterday, the Madras High Court upheld the two-week ban imposed on the film by the Tamil Nadu government last week, after Muslim groups said the movie's depiction of the community was offensive.
The film fraternity, that he has been a part of for decades, is standing firmly behind the beleaguered actor. So are his fans. Among a large number of people waiting to meet him outside his Chennai office today, was popular southern actor Surya. Other big stars like Nagarjuna and Dhanush, and Bollywood A-listers like Karan Johar too have come out in strong support.
Fans turned up today holding cheques and demand drafts because their idol had said that he was on the verge of bankruptcy. Kamal Haasan has shared that his house and other properties have been pledged to a money-lender. His brother, Chandra, has said the movie has lost between 30 and 60 crores because it has not screened as scheduled in Tamil Nadu.
After failing to get the ban on his film rescinded by the High Court, the actor appeared on the terrace of his office yesterday and told hundreds of fans gathered there to stay calm. "I am struggling for justice," he said, "don't give in to anger." He also assured them that he would continue to make films.
(I am struggling for justice, remain calm, says Kamal Haasan to fans)
Earlier on Wednesday, the actor suggested that the battle over Vishwaroopam is a crucible of India's secularism, and threatened to leave Tamil Nadu if the ban on the movie was not lifted. "If there is no secular state in India, I would go overseas," he said. Upset fans poured out on the streets in support.
Yesterday, minutes before he lost his case in the court, Kamal Haasan said he had agreed to drop contentious scenes and words. "My Muslim family has reached out to me... we have settled amicably," he said.
The film was initially slated to release on January 25 but was banned for two-weeks by state government on January 23, forcing the actor to move the High Court. The High Court's ruling means it cannot release in the state till Wednesday, February 6. The Hindi version of the film releases tomorrow.
Sources say that Kamal Haasan's supporters believe that the ban, so ardently advocated by the government, is not unhinged from politics. By backing Muslim protests, the ruling AIADMK is showing its support for a votebank traditionally loyal to its rival DMK. And the television rights for Vishwaroopam were granted eventually to Vijay TV and not Jaya TV, the mouthpiece of the AIADMK.