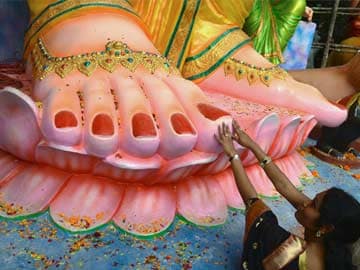 Hyderabad:
Lakhs of devotees on Monday bid adieu to elephant-headed Hindu god Ganesh amid massive security here and other parts of Telangana.
Over 40,000 policemen and paramilitary personnel were deployed in the twin cities of Hyderabad and Secunderabad and the adjacent Cyberabad police commissionerate limits to maintain peace during the annual Ganesh immersion procession, which marks the culmination of the 11-day festivities.
Hundreds of idols started reaching the Hussain Sagar lake in the heart of the city for immersion since Monday morning.
Thousands of idols were still on their way to Hussain Sagar and 23 other lakes in and around the city.
Officials of the Greater Hyderabad Municipal Corporation said 12,000 idols were immersed in the lake in the last three days and 9,000-10,000 more were likely to be brought till Tuesday morning.
Armed policemen kept a tight vigil over the mammoth procession, which passes through the communally sensitive old city area. The afternoon prayers at the historic Mecca Masjid passed off peacefully.
Thousands of devotees thronged the roads around Charminar, where the Bhagyanagar Ganesh Utsav Samithi erected a special platform to welcome idols coming from various parts of the old city and the outskirts.
The main procession, which started from Balapur on the outskirts, will pass through Charminar, Moazzam Jahi Market and Basheerbagh before reaching Hussain Sagar.
The procession started with the traditional auction of laddoo for Rs.9.5 lakh.
Small processions from various areas join the main procession, which covers a distance of about 20 km.
Police installed CCTV and video cameras throughout the procession route to keep a vigil while bomb disposal squads were pressed into service.
The mammoth procession, attended by about 10 lakh people, brought the city to a halt. Police imposed traffic restrictions to allow smooth passage of idols.
The first Ganesh festival, after the formation of Telangana state, is being celebrated in all the districts with gaiety and fervour.
Huge processions were taken out in Adialabad, Nizamabad, Karimnagar and other towns in Telangana.
State Home Minister N. Narasimha Reddy, who reviewed the security arrangements at the historic Charminar, voiced his satisfaction over the peaceful and smooth conduct of the procession.
He termed the Ganesh festival a "symbol of communal harmony" in Hyderabad.
Director General of Police Anurag Sharma also took stock of the situation in the old city. He said 10,000 cameras were installed to keep an eye on the massive procession.
Devotees made a beeline to have a last 'darshan' of the massive idol at Khairatabad. Two huge cranes are being deployed to carry the 60-feet idol to Hussain Sagar.
The Telangana government has arranged a helicopter to shower petals on the idol.
The municipal corporation has made elaborate arrangements for the immersion with a budget of nearly Rs.11.5 crore. It has installed 23 huge cranes at Hussain Sagar and deployed hundreds of workers to clear the debris.