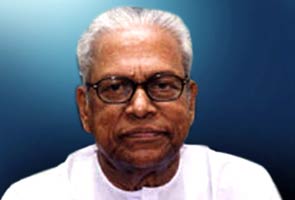 Thiruvananthapuram:
Sources have said that the Kerala government has submitted a report to Governor HR Bhardwaj recommending suspension of Information Commissioner K Natarajan. Mr Natarajan is facing allegations of influencing the investigating officer's decision regarding the Kasargod land scam case which involves former chief minister VS Achuthanandan.
Sources said the government has decided to take action against Mr Natarajan, a former Deputy Inspector General of police, on the basis of advice from the Home and Law Departments.
The report states that Mr Natarajan exceeded his brief and showed inappropriate behaviour, according to sources.
The investigating officer, VG Kunhan, had written a letter to his senior and attached an audio recording of an alleged conversation between him and the state information commissioner.
The officer claimed that Mr Natarajan was frequently calling him to 'absolve' Mr Achuthanandan as the first accused in his fact finding report. The officer suspected an attempt at sabotaging the enquiry. The Vigilance and Anti-Corruption Bureau (VACB) had earlier sent the audio 'evidence' to the cyber-forensic wing of the state police to check its authenticity.
He was appointed as the Information Commissioner during the tenure of Mr Achutanandan as the Chief Minister of Kerala.
Mr Achuthanandan is being investigated in the land scam case for using his influence as chief minister to allot land in Kasargod to one of his relative TK Soman 'unjustifiably'.
The CPI(M) stalwart has slammed the allegations as fabricated and has said he has nothing to do with the audio records. He has said anyone who uses his name for the wrong purpose should be punished.