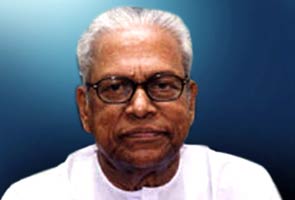 Kochi:
The director general of prosecution (DGP) informed Kerala High Court Tuesday that former chief minister and veteran CPM leader VS Achuthanandan has been arraigned as the prime accused in a land scam case involving his relative and the chargesheet will be filed soon.
T Asaf Ali informed the court that it's just a matter of time before the filing of the chargesheet in which Mr Achuthanandan has been named as the prime accused along with four others including the then revenue minister and Communist Party of India leader KP Rajendran.
The DGP made this remark after a petition filed by Mr Achuthanandan asking for quashing the first information report (FIR) filed by the vigilance department at the Kozhikode Vigilance court in the land scam case.
The arguments in the case are now over and the high court will give its verdict on Mr Achuthanandan's petition.
It was in June last year that Chief Minister Oommen Chandy's government ordered a probe by the vigilance department after examining all the files related to the land transfer to TK Soman - a relative of Mr Achuthanandan.
The cabinet also decided to cancel the land allotment at Kasargod district involving Soman, a former defence official.
The alleged land transfer took place at the fag-end of Mr Achuthanandan's tenure as chief minister in early 2011.
As per the government norms, when land is given to people in the defence category it should not exceed more than an acre.
Instead, Soman was given 2.33 acres and the rule is that such land cannot be sold or transferred for 25 years after allotment.
Both Soman and Mr Achuthanandan's personal assistant A Suresh have also been included as accused in the case by the vigilance department while two bureaucrats, whose names had earlier figured, were left out.
Meanwhile, in a related development, in an affidavit filed by the vigilance department at the Supreme Court on Tuesday, it was stated that the investigations are over and they have obtained evidences to prove the involvement of the office of Mr Achuthanandan in this case.
Suresh and Soman had approached the Supreme Court in the case.