Highlights
CPM has picked Pinarayi because he is younger than Achuthanandan
Achuthanandan was present when party announced new chief minister
Pinarayi and Achuthanandan have had conflicts in the past
Thiruvananthapuram:
As it announced that Pinarayi Vijayan will be Kerala's new chief minister
, the CPI-M said 92-year-old VS Achuthanandan, who it did not pick, remains an important man. The party's Fidel Castro, said general secretary Sitaram Yechury.
"Comrade VS Achuthanandan has played an important role. Considering his age and role, we have chosen Pinarayi Vijayan as Chief Minister," Mr Yechury said.
"Comrade VS is like Fidel Castro. What Fidel Castro is to Cuba, Comrade VS is to India," the CPM leader said.
Mr Achuthanandan sat beside Mr Yechury as the latter announced the state's new chief minister at the head of a Left Democratic Front government, in a signal that there were no differences within the party. But the party's star campaigner did not say a word to the media throughout the day.
Pinarayi Vijayan, once a close aide of Mr Achuthanandan, is a grassroots leader and is seen as a man in sync with party dynamics - unlike Mr Achuthanandan who is a mass leader and a brand name in Kerala but has also been accused of frequently breaching party discipline.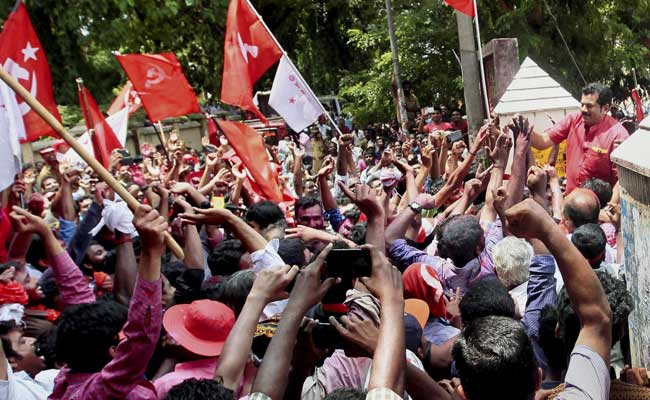 A majority in the state secretariat, sources said, backed Mr Vijayan for Chief Minister. Mr Achuthanandan is the only surviving founding member of the CPM in the state.
Much of Mr Achuthanandan's tenure as chief minister between 2006 and 2011, saw him face off with Mr Vijayan, in much embarrassment for the party.
They were both thrown out of the politburo in 2007, but while Mr Vijayan was reinstated in 2012, Mr Achuthanandan only had the status of an invitee to the central committee.
"He accepted the party decision. You saw him," Prakash Karat told NDTV when asked how Mr Achuthanandan reacted to the decision.
The LDF has wrested the state back from the Congress-led UDF, winning 91 of Kerala's 140 assembly seats in results announced yesterday.