Thiruvananthapuram:
Highlights
Marxist veteran VS Achuthanandan storms out of party headquarters
CPM leaders Yechury and Karat announced Vijayan as Chief Minister
Pinayari Vijayan is seen as a disciplined, grassroots leader
VS Achuthanandan has left the building. A formal announcement on who will be Kerala's new Chief Minister was made this afternoon, but the 92-year-old Marxist veteran's abrupt departure from the CPM's office in Thiruvananthapuram this morning told the story.
Pinarayi Vijayan, their party has decided, will be the new chief minister at the head of a Left Democratic Front or LDF government in Kerala.
Mr Vijayan was seen smiling at the party headquarters, where top CPM leaders Sitaram Yechury and Prakash Karat, who reached the Kerala capital this morning, held a meeting to decide on the next Chief Minister.
Pinyari Vijayan is seen to have scored over star campaigner and former chief minister Mr Achuthananadan primarily because he is 20 years younger at 72. Mr Vijayan also has a big majority in the party's state committee.
A grassroots leader, he is seen as a man in sync with party dynamics unlike Mr Achuthanandan who is a mass leader and a brand name in Kerala, but has also been seen as disruptive. He has been accused of frequently breaching party discipline.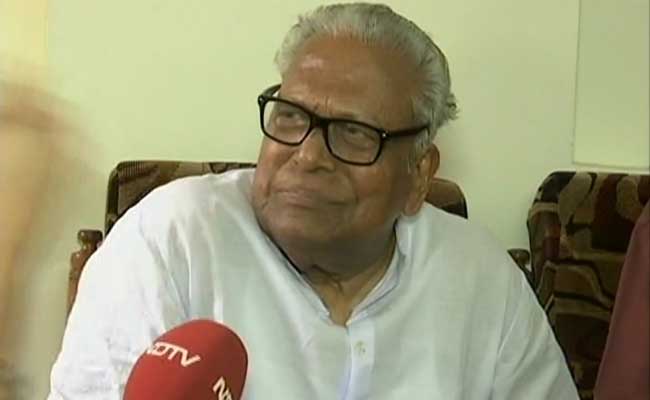 Much of Mr Achuthanandan's tenure as chief minister between 2006 and 2011, saw him facing off with Mr Vijayan, in much embarrassment for the party.
At one point, to cool tempers down, the party's national leadership had thrown both of them out of the politburo. While Mr Vijayan was reinstated, Mr Achuthanandan only had the status of an invitee to the central committee.
The CPM, which leads the LDF, did not project a face for chief minister in this year's election, maintaining that a decision would be taken after results were announced. The LDF has wrested the state back from the Congress-led UDF, winning 91 of Kerala's 140 seats.
Oomen Chandy of the Congress resigned this morning as chief minister.
Get Breaking news, live coverage, and Latest News from India and around the world on NDTV.com. Catch all the Live TV action on NDTV 24x7 and NDTV India. Like us on Facebook or follow us on Twitter and Instagram for latest news and live news updates.