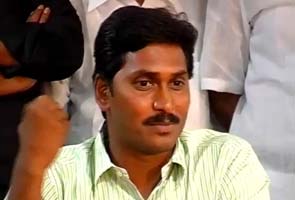 Hyderabad:
YSR Congress party will hold a massive public meeting in Hyderabad in October to oppose the proposed bifurcation of Andhra Pradesh, announced party president YS Jagan Mohan Reddy.
With the court refusing him permission to travel to Guntur, where he planned to launch 'samaikyandhra' (united Andhra) campaign, Mr Reddy has decided to organise the meeting in Hyderabad.
During his first interaction with media after his release from jail last week, Mr Reddy said the meeting would be held between October 15 and 20. He said precise date would be announced later.
YSR Congress will be the first political party to hold the meeting in Hyderabad after July 30 decision of Congress Working Committee (CWC) to carve out separate Telangana state.
The announcement came a day after Telangana Joint Action Committee held a mammoth public meeting in Hyderabad to urge the central government to speed up the process for formation of separate state.
Mr Reddy was released from jail last week after 16 months following conditional bail granted by the special CBI court.
The court today permitted him to visit his native Kadapa district to pay respects at his father YS Rajasekhara Reddy's grave but rejected his request to visit Guntur.
Mr Reddy met Governor ESL Narasimhan this evening and urged him to immediately convene a session of the state assembly to pass a resolution opposing state's division.
He said such a resolution will convey to the leaders in Delhi and to the entire country that "injustice" is being done to Seemandhra (Rayalaseema and coastal Andhra).
He said the session should be called before the union cabinet prepares a note as opposing the Telangana resolution after the central government sends it to assembly would be of no use.
He suggested that Samaikyandhra Joint Action Committee send a letter on behalf of all parties to the central government to oppose bifurcation.
"I am ready to be the first person to sign the letter," he said and challenged TDP chief N Chandrababu Naidu and Congress state president to sign the same to prove their sincerity towards samaikyandhra.