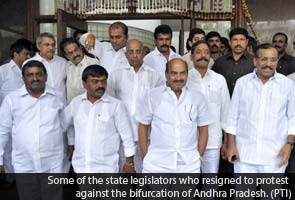 Hyderabad/New Delhi:
The brewing rebellion in the Andhra Pradesh Congress over the creation of a separate Telangana state led to some of the party leaders declaring that they have quit as ministers and state legislators.
Of the 37 ministers in the state's Congress government, 19 reportedly resigned on Thursday evening after a four-hour-long meeting with Chief Minister Kiran Kumar Reddy, to protest against the bifurcation of Andhra Pradesh. These 19 ministers are from the Seemandhra region of Andhra Pradesh.
Sources said that these ministers also spoke to Digvijaya Singh, Congress Andhra Pradesh in-charge, on phone.
Apart from these ministers, 26 state legislators also reportedly submitted their resignation to the Assembly Speaker. Fourteen leaders from the Telugu Desam Party (TDP) said they have also resigned in protest.
Meanwhile, a late night meeting was held at the residence of Congress MP K V P Ramachandra Rao in New Delhi which was attended by some Union ministers and MPs from Andhra Pradesh. Sources said some Congress MPs may resign in protest and that a final decision will be taken on Friday.
The Congress leaders in New Delhi has so far asserted that there is no going back on the decision to create a separate Telangana state. They have flown in two Congress general secretaries to Hyderabad to mediate.
"The party has made a decision. I know they are agitating but it is their democratic right to agitate," said Union Home Minister Sushil Kumar Shinde.
Though these ministers and state legislators have resigned, unless the Governor calls on Chief Minister Kiran Kumar Reddy to prove his strength, the crisis is likely to be circumscribed to a Public Relations nightmare.
Residents and leaders of Telangana, which includes the IT hub of Hyderabad, have been ecstatic with the fruition of a five-decade-long movement for statehood, the other two regions of the state, coastal Andhra and Rayalaseema say they have been betrayed.