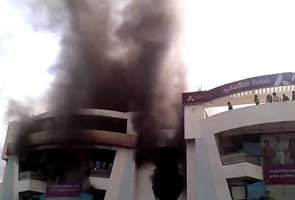 Chennai:
Four women were killed in a fire accident at Axis Bank's building in Coimbatore. The fire started on the third floor of the building at 10:15 am. Twelve fire engines were rushed to the spot and it took them two hours to douse the fire. (
See pictures
)
The fire officials said the building has no fire emergency exit and so the women remained trapped while men scaled to the terrace for safety. They also say the building had not obtained the Fire and Rescue Department's fire safety clearance.
At least 10 people, including a few policemen and fire and rescue team officials, suffered injuries. District Administration says they are out of danger.
Axis Bank officials say had taken the building on rent for many of its offices.
After the incident, fire safety experts are asking how the city's civic authorities had permitted a bank frequented by public to function without fire emergency exits.