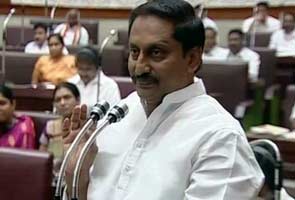 Hyderabad:
Leaders of BJP, Telangana Rashtra Samithi (TRS) and other pro-Telangana parties on Tuesday urged Andhra Pradesh Chief Minister N Kiran Kumar Reddy to allow permission to the 'Chalo Assembly' protest planned to be held on June 14.
The MLAs of BJP, TRS and others met the Chief Minister in the legislative assembly in this regard.
"We told the Chief Minister that we will take full responsibility to ensure peaceful conduct of the event. If the permission is not given, we said, the responsibility lies with the government for whatever happens," TRS MLA T Harish Rao told reporters.
"The Chief Minister told us that we can organise the programme after the conclusion of assembly session.
But, the name of the protest itself is 'Chalo Assembly'. How can we organise it after the assembly session ends?" he asked.
The 'Chalo Assembly' protest has been called by the Telangana Joint Action Committee (JAC). TRS, BJP and other organisations, which are part of the JAC, are trying to mobilise people in large numbers for the programme.
Congress Chief Whip in the Assembly G Venkata Ramana Reddy, who hails from Telangana region, said the Chief Minister is holding consultations with his Cabinet colleagues.
Some of the ministers from Telangana region are understood to have asked the Chief Minister to consider giving permission to the 'Chalo Assembly' programme.
The JAC chairman M Kodandaram said they would go ahead with the programme and that they intend to conduct the programme peacefully.