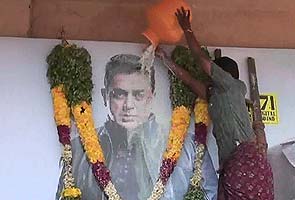 Chennai:
Actor-director Kamal Haasan has deferred his plans to fight the ban on his film Vishwaroopam in the Supreme Court. The two-week ban, which expires on Wednesday February 6, was imposed by the Tamil Nadu government which insists that the release of the film could provoke communal tension.
"I am hurt but calm," Kamal Haasan said to reporters in Chennai before flying to Mumbai where the Hindi version of the 95-crore movie is scheduled to release tomorrow. "I still have hope that things may be settled with the Tamil Nadu government. For now, I may wait before moving to Supreme Court," he added.
Yesterday, Kamal Haasan agreed to delete scenes identified as contentious by Muslim leaders, whose objections had precipitated the ban on January 23. Minutes after he said he had "settled amicably" with Muslim groups, the Madras High Court ruled in favour of the ban.
Defending the Tamil Nadu government's decision, Chief Minister J Jayalalithaa said today that her first priority was to maintain law and order in the face of objections voiced by several Muslim groups in the state that had threaten to carry out demonstrations and protests if the film was released.
(Jayalalithaa alleges 'hysteria, wild charges' over Vishwaroopam ban)

Kamal Haasan has presented the fight over his film as a crucible of India's secularism; the financial stakes are also staggering. He revealed yesterday that his house and other properties have been hocked to a money-lender. Fans gathered at his office this morning with cheques and demand drafts, a sign of their loyalty to their icon. Among them was popular Southern actor Surya.
Film actors and directors in Chennai and Bollywood are rallying behind the beleaguered actor, pointing out that the government has no right to intervene after the national censor board has cleared a movie. Bollywood superstar Salman Khan tweeted this diktat to his fans: "go stand outside the cinema hall and insist on seeing the film. It's a movie, entertainment. What law and order problem on a movie?"
(Support Kamal Haasan and his film, Salman tells fans)

Information and Broadcasting Minister Manish Tewari, also on Twitter, said that this morning, that it's time to "revisit" the Cinematograph Act to ensure that the decisions of the Censor Board are implemented. Last night, he told NDTV that state governments cannot over-rule the Censor Board, which is created by an act of Parliament.