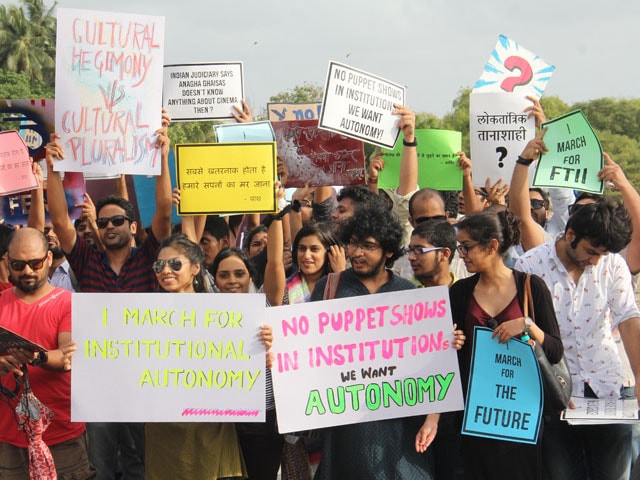 Pune, Maharashtra:
The protesting students of Pune's Film and Television Institute of India have hit back at the administration for asking 30 students to vacate the hostel, calling their decision as "tyrannical", as their strike entered the 58th day.
Students have been protesting against the appointment of TV actor Gajendra Chauhan as Chairman of the institute's governing council. They have refused to return to their classes unless Mr Chauhan is removed.
In a letter dated August 7, the students' union of the premier film institute said, "No project is deemed complete till the final film is officially submitted to the institution... this comes across as unnecessary meddling and interference in our academic activities by the administration and the government validating our fears of the threat to the institution's autonomy under this government."
Earlier on August 5, the administration had sent a notice to 30 students of the 2008 batch saying, "As per the status report received from your head of department regarding the completion of your academic activities, you are hereby directed to vacate the hostel with immediate effect. Failing which, Rs 500 per day will be charged for overstay as per hostel rules. To complete your thesis/dissertation, hostel will not be provided."
Students, alumni and several celebrities have said that Mr Chauhan falls far short of the qualifications needed for such a prestigious post. Many allege that Mr Chauhan, who has also acted in B-grade films, has been appointed only because of his proximity to the ruling BJP.
The letter by the students' union also said, "We appeal to you to not use tyrannical tactics as it will only further hamper our dialogue with the ministry to resolve our issues."
The students have also got support from Congress Vice President, Rahul Gandhi and Delhi Chief Minister, Arvind Kejriwal. But the government has refused to reconsider its decision and is now hardening its stance towards the students.