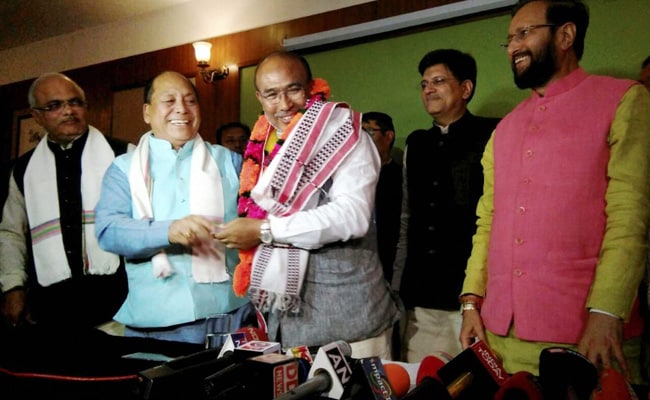 Imphal: Cricketer Navjot Singh Sidhu tried to negotiate his way to the top post in Punjab, but it is footballer Nongthombam Biren Singh who is the country's first chief minister to have been a career sportsman before he became a politician. On his way there, he was also a journalist. The BJP's Biren Singh, took oath this afternoon as Manipur's next chief minister, has worn several hats.
Here are 10 things to know about N Biren Singh:
The BJP's first chief minister in Manipur is 56 years old and belongs to Luwangsangbam Mamang Leikai in Imphal East.
Since 2002, when he contested his first election, he has represented the Heingang assembly constituency, first as a member of the Democratic Revolutionary People's Party and later, in the Congress.
Biren Singh was 18 years old when he was spotted by Border Security Force (BSF) officials during a football match in Manipur capital Imphal.
He joined the BSF team and was the first Manipuri footballer to play outside the state. He was part of the BSF team that won the Durand Cup defeating Kolkata team Mohun Bagan in 1981.
He quit the BSF team a year later in 1982, but played football for 10 more years in the Manipur state team.
In1992 Biren Singh began his second career as a journalist. He was 29.
He edited a Manipuri daily Naharolgi Thoudang and was in 2000 jailed on sedition charges for publishing a speech by an activist accused of supporting extremist groups.
Biren Singh joined the Congress in 2003 and served as minister in charge of several departments. He was a long time a close aide of Congress chief minister Okram Ibobi Singh.
The two leaders fell apart when Biren Singh was left out of the cabinet after the 2012 elections. In October last year, he joined the BJP.
The BJP's Thongam Biswajit Singh was also seen as a frontrunner for chief minister, but Biren Singh was picked because of his experience.