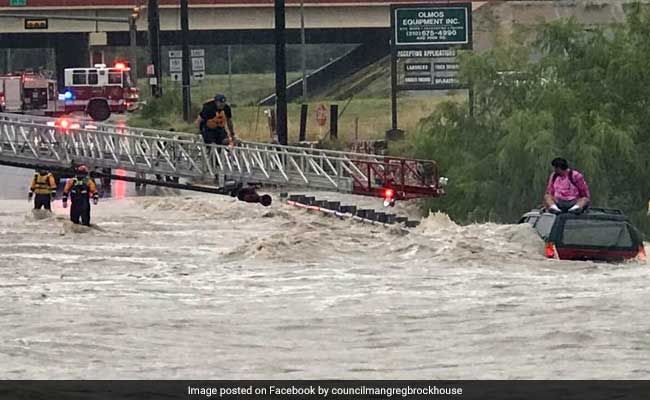 In the US state of Texas, firefighters rescued a man stranded top of his SUV on Monday, after it got stuck in raging floodwaters in the city of San Antonio. According to local media, the man ended up stuck on top of his vehicle for 45 minutes. Footage posted on
Facebook
by Councilman Greg Brockhouse, a city official, shows the moment rescuers were finally able to reach the man to rescue him. Two previous attempts failed after ladders attached to the fire trucks fell short.
Rescuers say the man was on his way to work and was driving through foot-high water on a low-lying road when his SUV suddenly stopped moving. Within minutes, the vehicle was submerged in deep, fast-moving floodwaters. Footage from the scene shows the man in a pink shirt and shorts, with a black bag strapped on to his back, sitting patiently on top of his SUV, waiting to be rescued.
According to
San Antonio Express-News
, ladders from two fire engines fell short trying to reach him. Firefighters then attached an additional ladder which allowed them to finally reach the man. A firefighter climbed across and handed the man a life jacket.
Finally, the driver was able to climb the ladder across to safety.
Watch the video below:
SBG San Antonio
reports that, fortunately, the man did not appear to be hurt. He was the only person in the SUV.Click for more
trending news