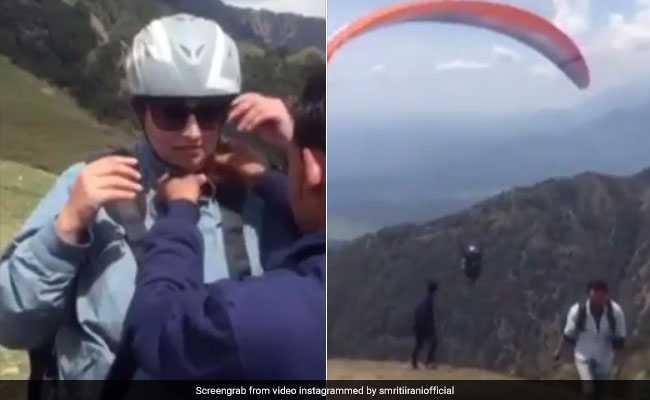 Union Textiles Minister Smriti Irani's Instagram game is totally on point. She may have joined the photo sharing app just two months ago but has since been sharing some rather interesting and entertaining posts. Her newest is a throwback video that shows her in a different avatar. Ms Irani's latest post, shared some three hours before writing this, shows her paragliding in Bir Billing, Himachal Pradesh. And while the video seems quite impressive, her hilarious caption will make you LOL.
Hashtagging the post #tbt (throwback Thursday), Ms Irani says: "Take off from the paragliding capital of India Bir Billing... And then there might be some who wud (sic) be wondering 'Did she have to land!!!!'"
Since being shared, the post has collected over 5,800 views, more than 1,100 'likes' and several dozen comments. While many have posted comments on the video itself, some have written about the caption posted by Ms Irani.
"Are you kidding me? I would never be able to do this," says one Instagram user. "Brave," says another.
"No Mam nobody would think something like this about you! Loads of admiration and respect for you," says one Instagram user. "Wow! That's amazing. And I love that your sense of humour finds full expression here!" says another.
And talking a little more about Ms Irani's sense of humour, here's another hilarious post shared by her just yesterday. This one makes a rather funny connection between two extremely successful series
Kyunki... Saas Bhi Kabhi Bahu Thii
and
Game Of Thrones
.
This post too has won major Instagram love with over 3,100 'likes' and lots of comments.Click for more
trending news