The Internet can be a weird, weird place. A video of an American woman spoofing April the giraffe has gone massively viral.
April
, for the uninitiated, is an Internet-famous giraffe who calls Animal Adventure Park in New York home. She is heavily pregnant and the "star" of a live "
giraffe cam
" YouTube video stream. The woman who hilariously spoofed her is also pregnant. The 7 minute long video has racked up 24 million views in less than 24 hours of being streamed live on
Facebook
. It has been shared over 400,000 times.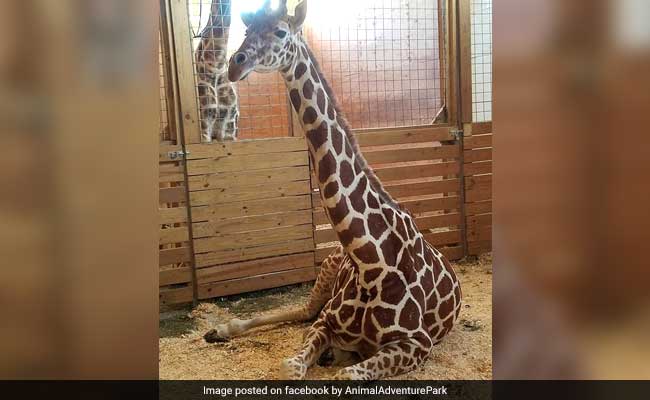 In the video, Erin Dietrich, 39 weeks pregnant with her fourth child, walks around her bedroom while wearing a giraffe mask. She dances around a little, does some stretching and relaxes in a rocking chair. "I did not think this many people would get a kick out of this," she writes on Facebook. "All our friends have been making fun of me and my obsession with April so we just thought 'hey, we should order a giraffe mask'."
"I did it and it just exploded," Erin tells
Myrtle Beach Online
. "We've talked about doing a live feed every night and maybe getting a giraffe hat for the baby when it is born," she laughs.
You can watch the video here:
"Hilarious," comments Patty Hancock. "For someone who has been following April the giraffe for over a week, this gave me a good laugh."
"At least you're pregnant. I don't think the giraffe is at all," writes Paula Elliott.
"This just shows how ridiculous humans are, to sit around for hours and days watching a giraffe give birth," writes Myndi Griffith.
Though, to be fair, we're not sure what watching this particular video says about us either.
For the latest News & Live Updates on Election Results from each assembly constituency in Madhya Pradesh, Rajasthan, Mizoram, Chhattisgarh, Telangana, like us on Facebook or follow us on Twitter for updates.