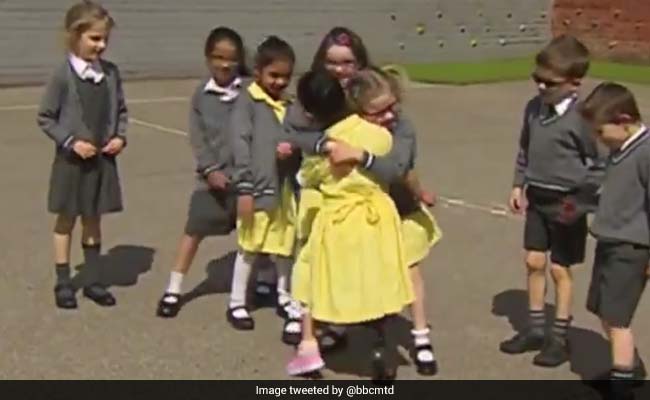 NEW DELHI:
A heartwarming video of a little girl and her wonderful friends has touched a chord with thousands of people online. The video, shared by
BBC Midlands Today
on Twitter, shows Anu, a seven-year-old from Birmingham, walking into school wearing her brand new prosthetic leg. What follows is the most heartening thing you may have ever seen. The clip shows Anu's friends running to embrace her. Since being shared on May 3, the video has collected over 68,000 'likes' and more than 41,000 retweets so far.
According to an earlier video shared by
BBC Midlands Today
, Anu had to have her leg amputated shortly after she was born. And while she earlier had another prosthetic leg, her new one, a pink sports blade, helps her "run faster and do street dancing faster."
The clip that's now gone viral captures the exact moment Anu walks into school wearing her new sports blade for the first time. "That's your new pink leg?" one of her friends asks her. "Wow!" exclaims another. Some of them also give Anu big hugs. She is later shown running around the playground with one of her friends.
Anu is seven and goes to school in Birmingham. Look what happened when she showed her friends her new sports blade. It's just gorgeous! pic.twitter.com/Aa1UlnhlQy

- BBC Midlands Today (@bbcmtd) May 3, 2017
The heartwarming video is leaving many on social media teary eyed.
"I'm not crying, it's just allergies," says one commenter on the video. "Love this. What a heartwarming reaction," says another.
Here's what other tweeted:
@bbcmtd@SkiRaceAnna Love, love, love this! And what a snazzy leg. Great stuff.

- Charlotte Henshaw (@CHenshawGB) May 3, 2017
@bbcmtd@Raphaelite_Girl My fav part?
The hugs!

- (@NisaGeee) May 3, 2017
@bbcmtd No, *you're* having a little cry.

- Le Chat Saboteur (@LeChatInnocent) May 3, 2017
@bbcmtd@BBC My son was born with only one leg. His schoolmates had no problem with his prosthesis, and protected him from bullies.

- Dorothy Lanier (@TubbytobyLanier) May 3, 2017
@bbcmtd I LOVE this. Just beautiful. What lovely kids.

- Charlotte Paxton (@charlottepaxton) May 3, 2017
@bbcmtd@madeline_elster Me right now pic.twitter.com/Y96gq99keO

- snowflake shuriken (@tedstrykr) May 3, 2017
@bbcmtd her & the other girl holding hands marching pic.twitter.com/oQFsfVh9oZ

- Sebastian (@ActionSebastian) May 3, 2017
@bbcmtd The hugs say it all, what a beautiful reaction! Restores your faith

- Edgbaston Police (@EdgbastonPolice) May 3, 2017
According to
BBC Midlands Today
, Anu received the new blade after a special 1.5 million pounds funding following the Paralympics last year. However, with the funding running out, there is uncertainty if Anu's blade will be replaced as she grows.