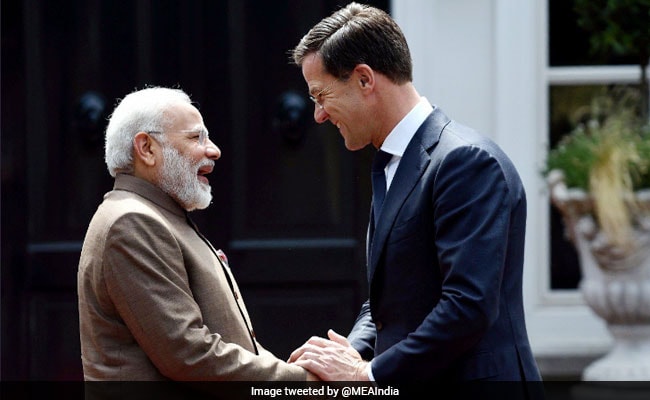 New Delhi:
Prime Minister Narendra Modi this morning returned to India after his three-nation tour. PM Modi visited Portugal, the United States and ended his tour in the Netherlands. This year marks 70 years of Indo-Dutch diplomatic relations. So, naturally, a little Twitter diplomacy was to be expected. PM Modi tweeted enthusiastically in Dutch several times during his visit. His Dutch counterpart tweeted back in Hindi. Except, it seems like he might have had a faulty keyboard as the message was tweeted without a single space, making it quite a mouthful to read.
Take a look at the Dutch PM's tweet in Hindi:
June 27, 2017
"Welcome to the Netherlands @narendramodi Our bilateral relations go back 70 years and with that I am extremely excited about our meeting," reads the tweet, roughly translated.
Tweeted about 18 hours ago, the tweet quickly went viral, with many pointing out the obvious:
YouForgotToAddSpace

— Super Commando Dhruv (@Eaglesiar) June 27, 2017
Ye le.. pic.twitter.com/5JXBgkWd1b

— Adil (@Adilogics) June 27, 2017
And, of course, people had jokes:
Soo overwhelmed Minister President, nice initiative to remove all space between the two countries.

— Lazy Cat '' (@uPoliticat) June 27, 2017
This is the guy who speaks MutualFundsAreSubjectToMarketRiskPleaseReadTheOfferDocumentsCarefully https://t.co/wZpp6jvLNx

— Mohit (@sailorsmoon) June 27, 2017
KoiJoMilaToMujheAisaLagtaThaJaiseMeriSaariDuniyaMeinGeetonKiRutAurRangonKiBarkhaHaiKhushbooKiAandhiHai#ShankarRutteMahadevanhttps://t.co/fqzQimZ2u8

— Advanced Maushi (@AdvancedMaushi) June 27, 2017
Close enough pic.twitter.com/4PsuCd4SAE

— Piyush (@friendlii_ghost) June 27, 2017
But most appreciated the Dutch PM's efforts:
Except for the space between the words, it was perfect.

— (@zilaChhapra) June 27, 2017
Yes, but be sure it's not his language . At least he tried must be appreciated.

— Naveen Kumar (@NaveenYdv8) June 27, 2017
Woww , Hindi .Appreciate

— Annie Singh (@o__positive) June 27, 2017
And this person thought Twitter's 140-character limit may be to blame:
Ho sakta hai 140 characters cross kar jata agar space dete to

— Aruna (@Arunapk57) June 27, 2017
Luckily, the Dutch PM tweeted again after meeting PM Modi, getting it right this time:
@narendramodipic.twitter.com/bi9EzwQQTt

— Minister-president (@MinPres) June 27, 2017
This is not the first time Mr Rutte has tweeted in Hindi. In 2015, he replied in Hindi to a tweet in Dutch by PM Modi, welcoming him to India.
June 5, 2015
Click for more
trending news