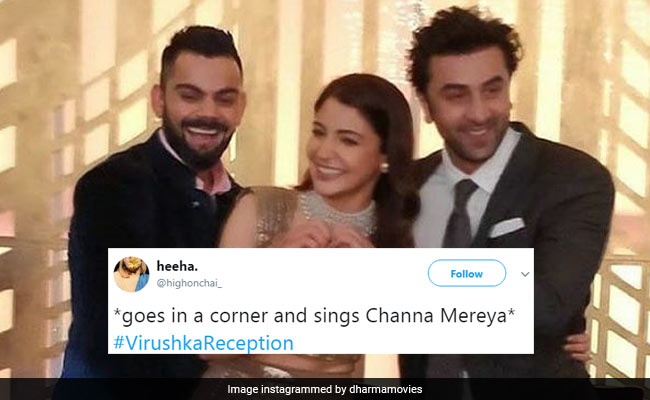 What was undoubtedly the wedding of the year is finally over.
Anushka Sharma and Virat Kohli
, who tied the knot in Italy weeks ago, wound up their wedding celebrations with a star-studded reception in Mumbai last evening. But of course you know that already what with your Instagram and Twitter feed overflowing with posts and updates from the grand celebration. From the couple's wardrobe for the night, to the celebrities in attendance, to all the videos of the newly-weds dancing the night away, social media can't keep calm and carry on when it comes to Anushka and Virat's Mumbai reception. However, in all the ooh-ing and aah-ing over the pictures and videos, Twitter didn't forget to do what it does best - makes jokes on the
#VirushkaReception
.
We've rounded up some of the most hilarious tweets about Anushka Sharma and Virat Kohli's Mumbai reception below. These are sure to make you laugh out loud.
There were lots of
Ae Dil Hai Mushkil
jokes
RANBIR was there #VirushkaReception@cricketshaukeenpic.twitter.com/NeTH5aYlQJ

- NISHANT BARAI (@maibhiengineer_) December 27, 2017
Friend Zoned! #VirushkaReceptionpic.twitter.com/AYOvohgssQ

- Ranbir Kapoor Daily (@RanbirDaily) December 26, 2017
*goes in a corner and sings Channa Mereya*#VirushkaReceptionpic.twitter.com/pQ85yOhQQg

- heeha. (@highonchai_) December 26, 2017
To sing Channa Mereya or not #RanbirKapoor#VirushkaReceptionpic.twitter.com/NjHAXbMM8H

- RanbirKapoor.Net (@RanbirKapoorFC) December 26, 2017
Cricketers Yuvraj Singh and Harbhajan Singh offered Twitter this pose on a platter
"yeh dosti hum nahi todenge"#YuviBhajji
@YUVSTRONG12 with @harbhajan_singh at #VirushkaReceptionpic.twitter.com/kU8r33VJqC

- Krish Krish (@krishkrish200) December 26, 2017
"quot;#MirzaGhalib#VirushkaReception@YUVSTRONG12@harbhajan_singhpic.twitter.com/sY6vvdAtHO

- Suraj Kaul (@surajkaul4) December 27, 2017
They didn't spare cricket legend Sachin Tendulkar also
Some pics are so funny #VirushkaReceptionpic.twitter.com/F0r0fAuC8q

- Aashi(@aashishjoshi00) December 26, 2017
This adorable moment rightly put in words
V: she's mine ok!
#virushkaReceptionpic.twitter.com/c2mnxb7C9n

- SonalovesBir (@Sonam199X) December 26, 2017
And this one about Anushka
She's such an adorable kid#VirushkaReceptionpic.twitter.com/c4BNDLMvFi

- Abhishek Yadav (@Devilabhiyadav) December 27, 2017
*No comments*
Exclusive pics from #VirushkaReceptionpic.twitter.com/JOzzzldV9S

- A (@BhokalTweet) December 27, 2017
This person who found himself at the reception
This guy is me at every wedding ever pic.twitter.com/szZoNcGYsQ

- Akshar (@AksharPathak) December 26, 2017
There were tweets about the receptions... or the number of them
Arey ek reception ke pics dekhte hai itne me dusri aajati hai
Please ab ek or surprise reception mat rakhna. #VirushkaReception

- AddyMaddy (@jhallipatakhaa) December 27, 2017
Informed sources on a condition of anonymity have told that post reception in Delhi & Mumbai, Anushka and Virat shall be holding receptions in Salem, Panipat, Nasik, Hoshangabad, Meerut, Saagar, Asansol, Coimbtore and 671 other cities & towns #VirushkaReception

- Ra_Bies (@Ra_Bies) December 26, 2017
Hey, we're not complaining. We just wish we were invited in one
Anushka Sharma and Virat Kohli's grand reception was held at Mumbai's St Regis' Astor Ballroom on Tuesday. The celebration was graced by several celebrities including the Bachchans, Shah Rukh Khan, Katrina Kaif, Priyanka Chopra, Ranbir Kapoor, Kangana Ranaut and more from the film industry. Sportstars MS Dhoni, Rohit Sharma, Saina Nehwal, Yuvraj Singh, Shikhar Dhawan, Harbhajan Singh and more were also in attendance.
Virat and Anushka hosted the first of their two wedding receptions in Delhi
on December 21. Virushka, as they're popularly called,
got married in a private ceremony in Italy earlier this month
. The newlyweds are slated to fly to South Africa next. While Virat will prepare for an upcoming series, Anushka is scheduled return to Mumbai after New Year celebrations and resume her pending work commitments.Click for more
trending news