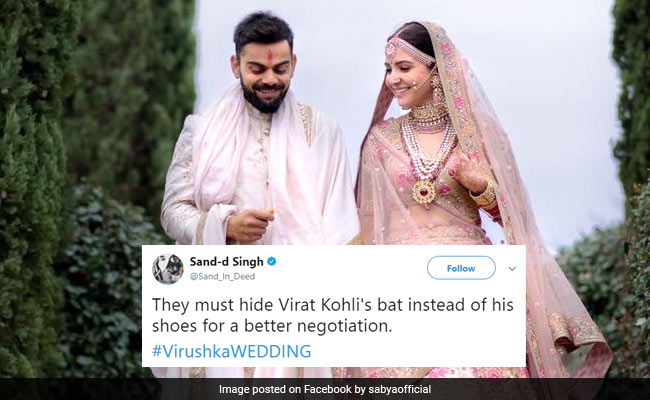 New Delhi:
It's official! Bollywood actor and producer Anushka Sharma and Indian cricket team captain Virat Kohli got married in Italy on Monday. But hours before they made it official via statements on Twitter and Instagram (
with pictures from the stunning wedding ceremony
),
the Internet was already in meltdown mode
. The hashtags #VirushkaWedding and #VirushkaKiShadi started trending on Monday evening and are still going strong on Twitter's top trends, even today. Anushka and Virat posted two different pictures of themselves smiling together and dressed in gorgeous Sabyasachi outfits. "Today we have promised each other to be bound in love forever. We are truly blessed to share the news with you," the newlyweds wrote, adding that it had been a "beautiful day." And while Twitter couldn't be happier for the couple, there were plenty of witty takes on Virushka's wedding.
We scoured through Twitter to find you 15 of the best tweets on Virat Kohli and Anushka Sharma's wedding.
A lot of jokes were made about the Manyavar ad campaign that features the couple.
Not sure if legit pictures or Manyavar ad campaign

— Tanmay Bhat (@thetanmay) December 11, 2017
Virat and Anushka are officially hitched! That Manyavar brand deal contract sure had some serious deliverables.

— Azeem Banatwalla (@TheBanat) December 11, 2017
#VirushkaWedding is for Manyavar what Demonetization was for PayTm

— The Wise Indian Uncle (@wiseindianuncle) December 11, 2017
All
desi
moms had the same reaction.
Mom - Ab toh Virat Kohli ki bhi shaadi ho gayi, ab toh tu bhi karle #Virushka

— Your Crush (@MeinTeraHero) December 11, 2017
Virat and Anushka got married

My mom : Shaadi ke din toh Shave kar leta #virushkakishaadi

— f society (@niazkilam3991) December 11, 2017
Twitterati found this
Sharma ji ki ladki
joke particularly relatable.
Young unmarried girls in Delhi will get lectured by their parents tonight - "Wo Sharmaji ki ladki ko dekha, usne shaadi kar li. Tu kab karegi?"#VirushkaWedding

— Bollywood Gandu (@BollywoodGandu) December 11, 2017
There were plenty of cricket-related jokes.
They must hide Virat Kohli's bat instead of his shoes for a better negotiation.#VirushkaWEDDING

— Sand-d Singh (@Sand_In_Deed) December 11, 2017
From now onwards @imVkohli will happily be the vice captain at home ... hail the new captain @AnushkaSharma .... once again wish you a happy married life. pic.twitter.com/F6Eg5wFbtd

— Riteish Deshmukh (@Riteishd) December 11, 2017
The timing of Anushka & Virat's tweets though

Itna coordination to sirf Dhoni-Kohli ke beech tha #VirushkaWEDDINGpic.twitter.com/IeUHR9pREc

— LUNAtic (@delhiveryboy) December 11, 2017
People couldn't help but quip about how the Virushka love story began.
Dandruff ne bana di jodi! #VirushkaWedding

— Ishita Mishra (@Iwrite24x7) December 11, 2017
Some joked about Virat and Anuskha's destination wedding.
Kids: Gets Married, plans a honeymoon.

Adults: Plans a honeymoon, gets married.

Legend: Gets Married at honeymoon location.#VirushkaWedding

— Godman Chikna (@Madan_Chikna) December 11, 2017
Virat & Anushka got married.



Rahul Gandhi elected as congress president.

What a great day for Italy— Shridhar V (@iimcomic) December 11, 2017
Why Viruskha? Why not Korma?
By the way, why is Virat Kohli marrying Anushka Sharma being called #VirushkaWedding.
Why not #Korma?

— Ramesh Srivats (@rameshsrivats) December 11, 2017
Frankly, news of Anushka Sharma and Virat Kohli's wedding made everyone smile and provided a lovely distraction... if only for a while.
Me: * suffering from depression,insomnia,anxiety,has to repay loans,EMIs,is jobless,flunked in exam and life *
Me: OMG.I am so happy Virat and Anushka got married.God bless them.May they always be happy and get everything in life...#VirushkaWEDDING#Virushka#ViratWedsAnushka

— Diabetes (@bloodysugary) December 11, 2017
Virat & Anushka putting the nation first with #VirushkaWEDDING.
Giving us 2 hours relief from Indians going on and on about how their political or religious view is only way.
And, all else sucks.

Just love, smiles and rings.

— Sorabh Pant (@hankypanty) December 11, 2017
In a statement to the press, Anushka and Virat announced they will be hosting a reception in New Delhi for relatives on December 21, followed by a grand celebration in Mumbai on December 26 to be attended by Bollywood stars and cricketers.
Later, Anushka will accompany Virat to South Africa where he will prepare for India's forthcoming tour there which is taking place early next year.
After spending New Year's Eve together, Anushka will return to Mumbai in the first week of January to resume shooting for a film with Shah Rukh Khan and Katrina Kaif.
Virat and Anushka started dating in 2013 after they met during the filming of a shampoo advertisement. Click for more
trending news