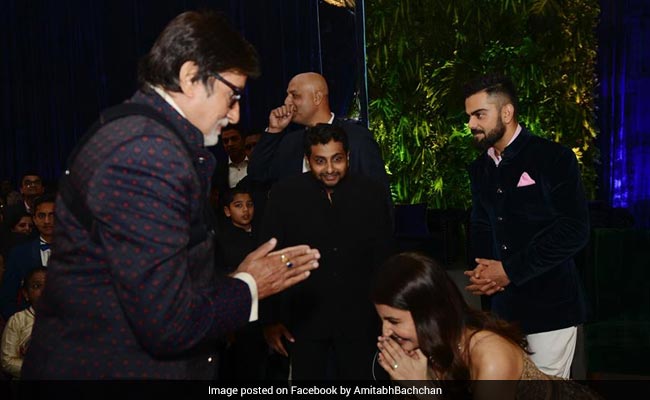 New Delhi:
Actor and producer Anushka Sharma celebrated her 30th birthday on May 1. The celebrations included some cake and special wishes from India cricket captain and husband Virat Kohli, a movie date and a delightful announcement about her
plans of building an animal shelter
near Mumbai. However, even as her Twitter timeline was flooded with birthday greetings from friends, colleagues and fans - many of which the actor is graciously replying to - one Twitter exchange stands out. And it features none other than Bollywood veteran Amitabh Bachchan.
Remember how last year
Big B had tweeted actor Sonam Kapoor
about SMS-ing her his birthday wishes and not getting a reply back? Well, looks like that just happened again, except this time with Anushka Sharma.
Earlier today, Mr Bachchan tweeted Anushka his birthday wishes saying she probably didn't receive his text message.
@AnushkaSharma .. Anushka .. this is Amitabh Bachchan @Srbachchan .. wished you on May 1st via sms .. no response .. checked they said you changed number .. sent greetings again .. love and wishes .. you looked radiant at the IPL game last night

- Amitabh Bachchan (@SrBachchan) May 2, 2018
The tweet collected quite a few amused reactions with over 7,700 'likes' and almost 1,000 retweets.
A grateful Anushka replied to his tweet, thanking the actor for his wishes. Hilariously, she also let him know that she was replying to his SMS as well.
Thank you so much Sir, for remembering my birthday and sending your kind wishes! (Responding to your sms as I tweet this)https://t.co/dr01PUswIf

- Anushka Sharma (@AnushkaSharma) May 2, 2018
Her reply, posted four hours before writing this, has collected over 10,596 'likes' and some 770 retweets.
Twitter, meanwhile, did what it does best and posted funny reactions to the exchange.
Maine badal diya pic.twitter.com/GQUaoc0Djb

- Heisenburg (@achhillies) May 2, 2018
May 2, 2018
Last year, apart from Sonam Kapoor, actor Ranveer Singh also apparently missed Mr Bachchan's message. Except, he said he didn't.
hey .. but what about my intention .. sent you sms greetings for your birthday .. did not get a reply .. did you see it .. !??

- Amitabh Bachchan (@SrBachchan) July 13, 2017
Except that i TOTALLY replied! I just cross checked it too! You were in fact one of the first to even wish!

- Ranveer Singh (@RanveerOfficial) July 13, 2017
Well, we certainly hope no one else misses Amitabh Bachchan's message in the future. Or else... there's a stern tweet coming their way!Click for more
trending news