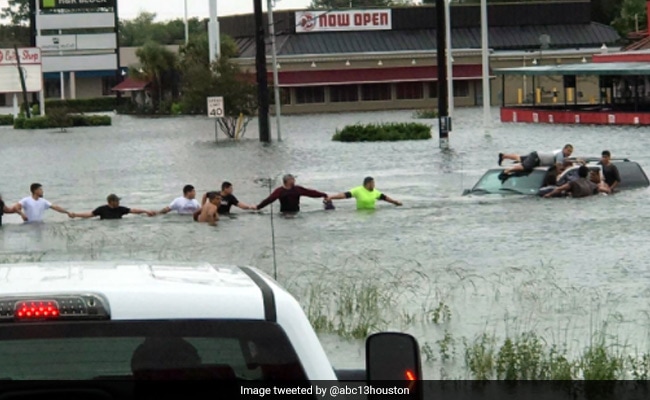 New Delhi:
The Internet collectively agrees that 2017 was a very pretty bad year. Natural calamities, senseless acts of violence, political and economic crises - there have been plenty of events that brought pain to people. But a few good men and women kept us going, despite the tough times. As the year winds up, let's look back at some viral stories that gave us hope that humanity still exists. These were people who went above and beyond the call of duty, sometimes even risking their own lives to help others. These are the people who made 2017 a bit more bearable.
Here are 10 stories that prove 2017 wasn't all that bad:
When Bengaluru Cops allowed an ambulance ahead of then-President Pranab Mukherjee's convoy
Traffic cops ML Nijalingappa and Vishwanath Rao were posted at Bengaluru's Trinity Circle waiting for then-President Pranab Mukherjee's convoy when they saw an ambulance approaching from the other side. With the President's convoy just 150 feet away, the cops took the split-second call of letting the ambulance pass through: a decision that won them praise both from their seniors and the Internet for having their priorities right.
When Mumbaikars opened their homes for stranded people during heavy rains
Mumbai displayed its indomitable
Aamchi
Mumbai spirit when the city witnessed 30 times the average rainfall in August leaving locals stranded for hours. With officials busy rescuing people, Mumbaikars opened their hearts - and their homes and offices - to help their own. People offered food, water and even their homes to stranded strangers in need. Not just locals, people helped whoever came looking for assistance. When a French family couldn't find a place to stay during the heavy downpour, a Gurudwara in Dadar area gave not just them and 750 others
shelter
and food.
A Karnataka auto that doubles up as an ambulance for the needy at night
In Belgaum, Karnataka, an auto rickshaw driver does something heartwarming every night - he offers his auto as an ambulance for the needy. Manjunath Ningappa Pujari, who drives an auto every day between 6 pm to 9 am, offers free rides to those in emergency situations using his auto as an ambulance. He also donates part of his salary to an NGO.
When a cop held on to a van dangling off a bridge
When West Yorkshire police officer Martin Willis reached the site of a car crash, he knew he had to act fast. An overturned van dangled precariously off the bridge and swayed with every passing vehicle. Risking his own life, Officer Willis held on to the van for 15 minutes till help arrived. His quick-thinking, selfless act eventually saved the life of the driver who was trapped inside the van.
When Texans formed a human chain to save a man during Hurricane Harvey
Texas residents jumped to action when they saw an elderly man trapped in a sinking SUV during Hurricane Harvey. No ropes or equipment, the group stood in chest-deep water and formed a human chain to help the man. Arms linked, they slowly inched towards the vehicle in the fast-flowing water and successfully pulled him out of the vehicle.
When Delhi cops helped a woman stranded on the road past midnight
New Delhi resident Priyanka Kamboj shared her experience of being stranded past midnight with a flat tyre when two police officers reached out to her. They not only helped change the flat on her car but also ensured that she reached home safely. She had shared a Facebook post on February 2, thanking the officers who helped her. Her post subsequently went viral.
When an auto driver in Hyderabad saved the day by helping his passenger who ran short of cash
Using hashtags like "#randomactofkindness" and "#lifechangingmoment", Facebook user
Varijashree Venugopal wrote about her kindhearted auto driver in a viral post on April 11. Ms Venugopal needed Rs 5,000 before a visa interview and was running short by a couple thousand bucks. After trying several ATMs in vain, her auto driver, Baba, saved the day by offering her the extra cash she needed. "He selflessly helped a total stranger. I was moved," she wrote in her viral Facebook post.
How a Delhi cop won social media by returning a man's wallet with Rs. 50,000 intact
New Delhi resident Jagpreet Singh described in a Facebook post how Sub Inspector Madan Singh found and returned his wallet without a rupee of the Rs. 50,000 he had in it missing. "Remember, we've good people in police and they will always help us," he said in his post shared on January 8.
When police recruits in Uttar Pradesh pitched in to buy a hawker a bicycle after it was stolen
This heartwarming story made tweeple smile from ear to ear after it was posted on Twitter on March 31. Rahul Srivastav, the Public Relations Officer to the Director General of Police, Uttar Pradesh, tweeted that after a hawker's bicycle was stolen, recruit constables at Moradabad's Dr BR Ambedkar Police Academy gifted the elderly man a new one. "Great to see new recruits with golden heart, soon Indian society will be gifted by these great cops on ground to serve them," a Twitter user commented on the tweet.
A Delhi cafe run entirely by the differently-abled
A video about a Delhi cafe, run by the differently-abled, went viral after it was posted on February 15. Echoes Cafe, in south Delhi's posh Satyaniketan neighbourhood is brilliantly managed and run by people who are hearing and speech impaired. The video touched a chord with many on Facebook.Click for more
trending news