Bengaluru:
Traffic sub-inspector, ML Nijalingappa, has over 38 years of service behind him. And it certainly helped him take the right split-second decision last Saturday. He and traffic constable Vishwanath Rao were on duty at Bengaluru's Trinity Circle as President Pranab Mukherjee's convoy was approaching from the HAL airport. That's when they saw an ambulance approaching from another road. Quick thinking was needed.
The First Citizen usually does get right of way - but these traffic cops had their priorities right.
"The ambulance was coming from a hospital on Richmond Road. The President's car was just 150 feet away. We did not have a tough time taking the decision - we managed both the ambulance and the VVIP," Mr Nijalingappa told NDTV.
"Two are important - one is the President of India. One is the patient. We took a sudden decision," Mr Rao added.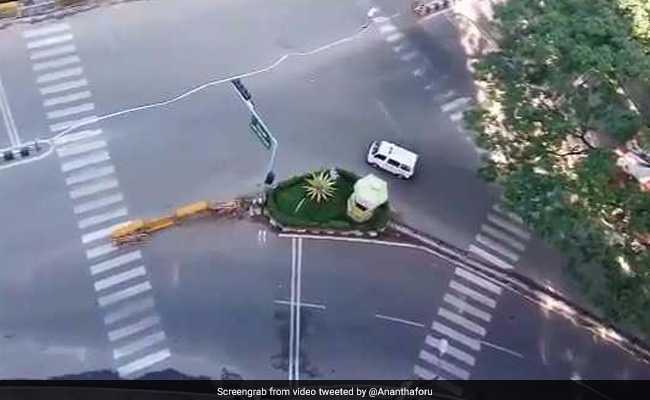 The usual procedure is to clear such things with higher officers. But there was no time for that on Saturday. But Bengaluru Police Commissioner, Praveen Sood, was far from offended.
""We have issued instructions time and again that any emergency services should get precedence over VVIP, but I must say, it is not an easy decision to take on the field," he told NDTV.
"It is very easy for us to pass instructions. They have show application of mind, presence of mind and took a decision - we have rewarded both the officers suitably," he said. "So this is like sending a message that if you allow an emergency vehicle, nothing will go against you, in fact we will appreciate your action."
On Twitter, one person pointed out that giving an ambulance priority over the movement of a politician's convoy should be a "basic expectation."
Glad to hear but giving an ambulance priority over politicians is a basic expectation not an achievement.

— M (@MBR_29) June 17, 2017
in theory yes....but in the Indian context this is HUGE decision for a policeman to make...must be recognized and encouraged.

— Sarat Shanmukh (@SaratShanmukh) June 18, 2017
I agree. It's not simple as it appears. Situation in field is complicated than it appears.Consequences can b either way! 4 understanding.

— Praveen Sood IPS (@CPBlr) June 18, 2017
Another person pointed out it's often not possible to give way for emergency vehicles due to Bengaluru's bumper-to-bumper traffic:
Most times there is no space to give for ambulance in Bangalore.. lane discipline is the need for the hour.. 2 wheelers need dedicated lane

— Sathisp (@sathisp) June 18, 2017
Most online, however, applauded the traffic cop's quick-thinking:
In the past, patients have died waiting for VIP convoys. So, right behavior needs to be recognized & rewarded. Glad common sense prevailed.

— Sabyasachi Das (@offmyownbat) June 18, 2017
Act of Shri Nijlingappa is truly admirable and deserves Kudos. Serves as example for many. @BlrCityPolice@cpblr@blrcitytraffichttps://t.co/fLxOKpdNaj

— IPS Association (@IPS_Association) June 20, 2017
"Every Indian is a VIP," noted one person, echoing Prime Minister Narendra Modi:
A big salute for this great gentleman.. Shown every Indian citizen is VIP ..

— Mohammed Ismail (@Smile3560) June 18, 2017
He has set an example for others to follow - if President of India can surely CM and other ministers convey should give way Fabulous job PSI

— Krishnan Vaidya (@krishvaidya) June 18, 2017
The President was in the city to launch the final phase of the Bengaluru Metro. And while that should be ease traffic to some extent, having people like these gentlemen looking after the traffic is a big plus as well. Click for more
trending news
Election Results for Lok Sabha Election 2019 will be out on May 23. Get the latest election news and live updates on ndtv.com/elections. Catch all the action on NDTV Live. Like us on Facebook or follow us on Twitter and Instagram for news updates from each of the 543 parliamentary seats for the election 2019