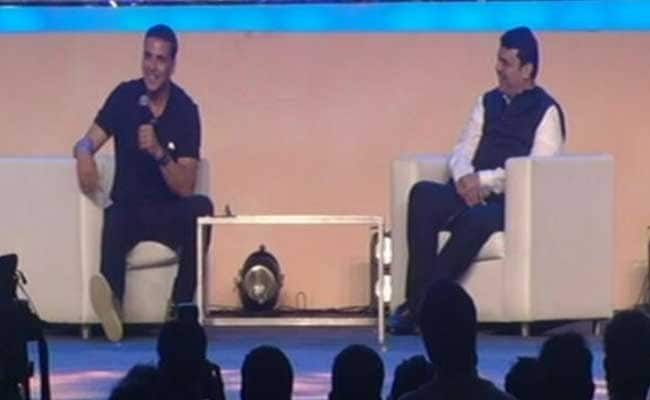 Mumbai:
In order to put a full stop to open defecation in Maharashtra, Chief Minister Devendra Fadnavis has proposed to construct public toilets every few kilometres across the state. The inspiration came from actor Akshay Kumar, who addressed a gathering of over 5,000 students at the annual 'Transform Maharashtra' meet in Mumbai yesterday.
The actor asked the Chief Minister to ensure there are public toilets every 500m or a kilometre to not only to help citizens but to discourage open defecation. The chief minister liked the idea and said it would be implemented soon.
Mr Kumar said Bollywood has a bigger role to play than just entertain and cinema should facilitate change. Interestingly, the actor's upcoming film deals with the subject of sanitation, lack of awareness and the reluctance to use toilets in certain pockets. The absence of toilets is a huge challenge for women. Highlighting their importance, he shared a dialogue from his film, "A
gar biwi pass chahiye toh ghar main sundass
(toilet)
chahiye
."
The way phone booths were built at fixed distances, Mr Kumar said, we could have 'toilet booths' on similar lines so people won't have to suffer anymore. He also propagated the idea of a toilet app that would give people the location of the nearest toilet.
The Transform Maharashtra initiative is a competition that invites solutions from college students to resolve challenges that Maharashtra is facing. The competition had around 2,300 submissions from around 1,15,000 students from the state. The numerous presentations were followed by selfies with the actor, Mr Fadnavis.