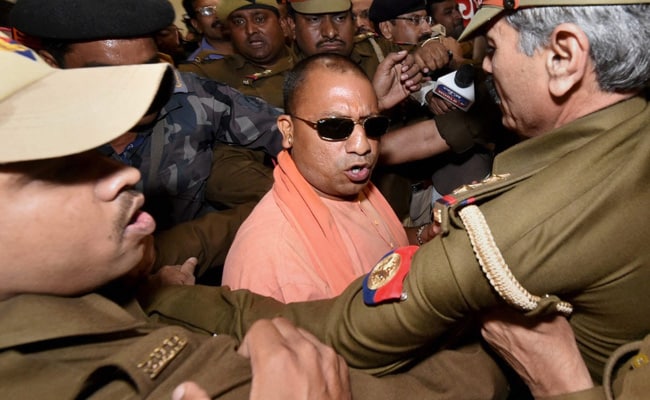 Highlights
Akhilesh Yadav of the Samajwadi Party occupied the bungalow till now
PM Modi, Amit Shah among those who attended Mr Adityanath's swearing-in
RSS role is clear in the choice of chief ministers in UP and Uttarakhand
Lucknow:
Aditya Nath, Yogi, Chief Minister, says the new nameplate at Lucknow's 5 Kalidas Marg, which Akhilesh Yadav of the Samajwadi Party occupied for the last five years.
Akhilesh Yadav, road-rolled by the BJP
in this year's Uttar Pradesh assembly election, was present on Sunday when Yogi Adityanath took oath as UP's new Chief Minister. So was his father Mulayam Singh Yadav, also a former UP chief minister, Prime Minister Narendra Modi, BJP chief Amit Shah, many union ministers and BJP chief ministers and also thousands of people at the 96-acre Smriti Upwan complex in Lucknow.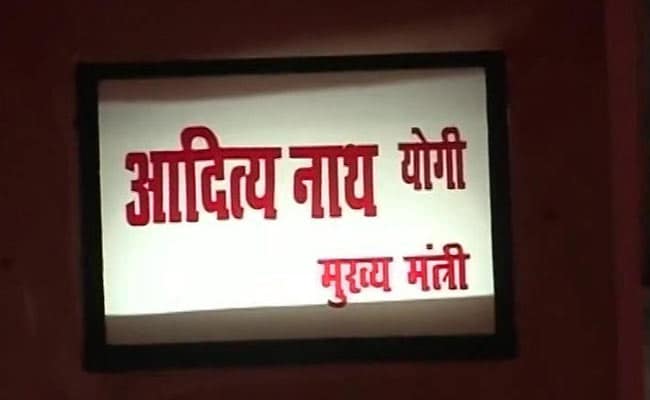 After taking oath Yogi Adityanath walked over to and sought the blessings of BJP veterans L.K. Advani and Murli Manohar Joshi as well as Rajnath Singh, the Union Home Minister.
It was an important day for the BJP. "I have immense confidence that this new team will leave no stone unturned in making UP Uttam Pradesh. There will be record development,"
tweeted PM Modi
.
"For me the two best news are Narendra Modi being PM And Yogi Being the Chief Minister of UP. Modiji will take development and nationalism together hand in hand," said Uma Bharti, senior BJP leader and union minister, like Yogi Adityanath a saffron-robed Hindutva face of the party.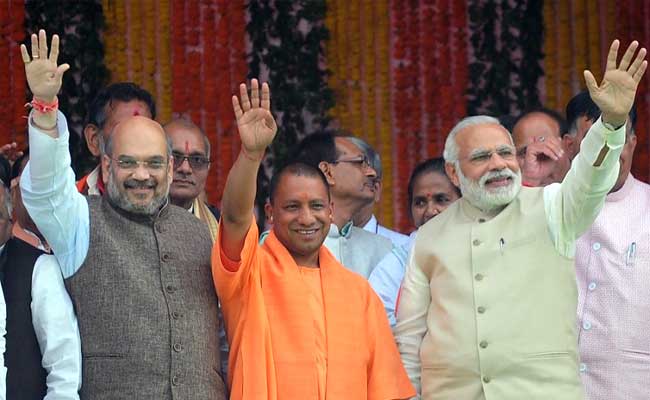 At a press conference soon after the oath, the 44-year-old new Chief Minister said he would deliver on all the poll promises made by the BJP, guided by the philosophy of Deen Dayal Upadhyaya, ideologue of the Rashtriya Swayamsevak Sangh or RSS.
"UP is the
janmabhoomi
and the
karmabhoomi
of Pandit Deen Dayal Upadhyaya. We are totally committed to the dream of antyodaya," he said.
He promised to work for all sections of the society without any discrimination, with focus on development and creation of jobs. In a brief media interaction after his oath, he said his government will pursue PM Modi's agenda of "
sabka saath, sabka vikas
(development for all)."
"I want to assure people that the BJP, which got votes for development and security, will show positive results soon," the Chief Minister said, adding that the administration will be made answerable and that the emphasis will be on law and order.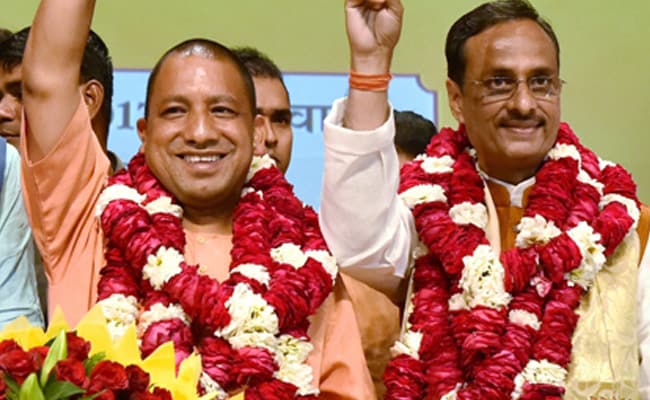 Yogi Adityanath said work will be done to make development agriculture-based as it is the main source of income in the state. The empowerment of women and their security would also be on top of his government's agenda, he said.
The Chief Minister, his two deputy chief ministers - Keshav Prasad Maurya and
Dinesh Sharma
- and 44 other ministers have been picked in a careful balancing act by the BJP, which took seven days after election results were announced to name its UP Chief Minister, crucial to the party's preparation for the 2019 national election when it will seek another term at the Centre.
The party has given ministerial berths to representatives of sections and regions of the state which voted for it and allies who helped get votes.
The influence of the RSS, the BJP's ideological parent, is clear in the choice of chief ministers in the two neighbouring states of UP and Uttarakhand, both swept by the BJP in this year's assembly election. Both Adityanath Yogi and Uttarakhand's Trivendra Singh Rawat are close to the RSS or its ideology and rivals allege that the BJP's message is blunt.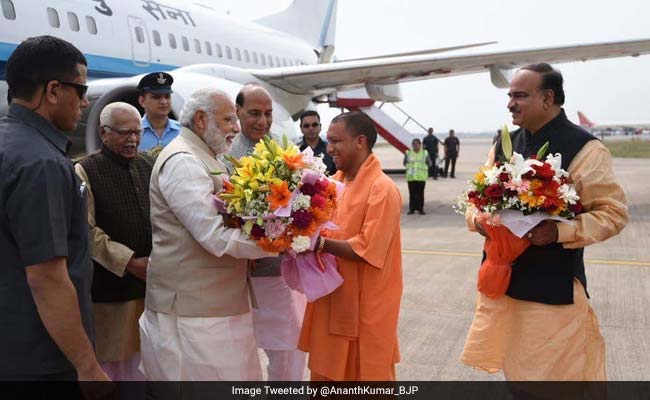 "The BJP has appointed Yogi Adityanath as chief minister to fulfil the RSS agenda," said Bahujan Samaj Party chief Mayawati, who is also a former UP chief minister.
The Congress' Mani Shankar Aiyar said, "It is clear that his aim is Hindutva, to make a Hindu nation."